Rusal returns to quarterly profit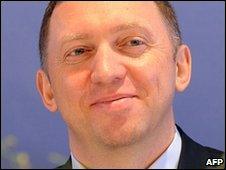 The world's biggest aluminium producer, Rusal, has reported a net profit of $247m (£169m) for the first three months of 2010.
The first Russian company to list in Hong Kong posted a quarterly loss of $638m a year ago, but managed to get a $821m net profit in 2009.
Rusal said it returned to quarterly profit thanks to cost-cutting and higher aluminium prices.
The firm sees the global demand for the metal remaining strong this year.
Rusal said its revenue rose by 31% to $2.3bn compared with the first quarter of 2009.
"Rusal plans to continue its sustainable development by introducing new, efficient aluminium and energy production capacities, reducing operating costs, diminishing our debt and further expanding our presence in Asia, the most promising market for aluminium," the firm's chief executive, billionaire Oleg Deripaska, said in a statement.
Oleg Mukhamedshin, Rusal deputy chief executive, said: "We believe China's aluminium demand can grow nearly 20% this year."
Last year, Rusal's revenue almost halved to $8.2bn, as the company called 2009 "one of the toughest" years on record for the industry.
Shares in Rusal rose by almost 1% on Friday, but remain a quarter below their January listing price.
Related Internet Links
The BBC is not responsible for the content of external sites.