Can schools be free and accountable?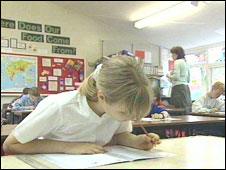 Welcome to the new age of school autonomy and teacher freedom.
At least that is what has been promised: fewer directives and targets, less guidance and prescription.
However, there are conflicting messages on English education policy from the new coalition government.
They can be summed up by two consecutive sentences in the "coalition agreement", which has become the working handbook for the new government.
First, it promises that all schools will have "greater freedom over the curriculum". Then, it adds that all schools will be held "properly accountable".
These two aims need not be in conflict. But the history of the primary school curriculum and the associated national curriculum tests shows they have been.
This was underlined by this month's boycott of the national curriculum tests in England.
Primary schools now look set to be the first real test of the depth of the government's commitment to school freedom.
The Labour proposed new primary curriculum, based on the recommendations of the Rose Review, was due to start in schools from September.
But in the hiatus before the general election, the curriculum reforms were struck out, along with a host of other plans, including school report cards and the licence to teach.
The Labour government had to drop the primary curriculum reforms from the Children, Schools and Families Bill in order to get other parts of it through Parliament before it was dissolved.
So everything is back in play again.
During the election, the Conservatives talked about wanting a simplified primary curriculum, built around phonics and "maths, science and history".
The Liberal Democrats called for a "minimum curriculum entitlement" as a slimmer replacement for the national curriculum.
So, apart from the Education Secretary's propensity to talk about phonics and mental arithmetic, there would appear to be consensus around a more hands-off approach from Whitehall.
This leaves the way open for a grassroots development of the curriculum.
It has been a long time since teachers felt empowered to devise their own curriculum.
Some fear they may even have forgotten how to do it after so many years of top-down direction.
But, in fact, a bottom-up curriculum reform movement is already happening. It was started by the Cambridge Primary Review. This could be its big chance.
When the review reported last October, after the most thorough inquiry into primary schools since the Plowden report of the 1960s, it fell on stony ground.
The Labour government had its own review, led by Sir Jim Rose, who was forbidden to stray into the controversial area of tests.
The Cambridge proposals looked to be dead in the water. However, undeterred, the leaders of the Cambridge Primary Review said they planned to talk as much to teachers as to politicians.
They urged schools not to assume that "reform is the task of government alone".
Since last October, the review has been running events across the country, encouraging teachers to start making changes themselves without waiting for government direction.
To assist this grassroots process, it is appointing a national co-ordinator, a national office and up to eight regional centres to start work shortly.
The scene is now set for academics, experts and practitioners to develop a primary school curriculum, along the lines of the Cambridge Review's general principles, without waiting to be told what to do by government.
However, much of the Cambridge Primary Review may not chime with the preferences of the new Education Secretary.
But if Mr Gove means what he says about trusting teachers, and giving freedom to schools, then he ought not obstruct this grassroots movement.
According to the Cambridge Review team, a common reaction at its teacher events has gone like this: "We like the ideas. We want to take them forward. But we daren't do so without permission from Ofsted inspectors".
They also fear the impact on their national curriculum test results and league tables.
The Cambridge Review did not oppose testing pupils. It agrees that schools should be accountable. But the key question is how to do it without damaging the broad curriculum.
There is now an opportunity to get both the curriculum and testing right.
Professor Peter Tymms, of Durham University, believes the key is to separate testing for the purpose of monitoring standards from testing to diagnose how well pupils are learning.
As he argues, because the current national curriculum tests are used to create school league tables they "generate unhealthy pressure on teachers and pupils and this leads to a narrowing of the curriculum".
Moreover, as he points out, the information from the tests is of little use because it comes when pupils are about to leave primary school.
So it is "too late for teachers to use the results to help their pupils".
He argues for a two-pronged approach.
Testing a sample of pupils each year would allow monitoring of national standards, without pressure to teach-to-the-test.
The other part of the approach would be to have assessment within schools that would help teachers to evaluate how their pupils are doing.
Further accountability, comparing school with school, would of course still be available through Ofsted report.
Since Mr Gove wants to narrow Ofsted's remit so it focuses more sharply on academic performance, its reports could become the main means of school accountability, without the need for SATs-style tests.
An Ofsted judgement should give a more rounded view of schools than a set of results achieved by pupils on a few days each May.
The one proviso would have to be that the government did not use Ofsted as a way of enforcing a particular curriculum view.
But is the government willing to give up the powerful weapons of Ofsted-as-enforcer and national curriculum tests that were originally devised as a way of handcuffing teachers to a particular set of curriculum priorities?
The challenge for the new coalition government is to find a form of school accountability that informs parents but does not limit teachers' freedom to teach as they think best.
Related Internet Links
The BBC is not responsible for the content of external sites.