Cannes applauds L'Aquila earthquake film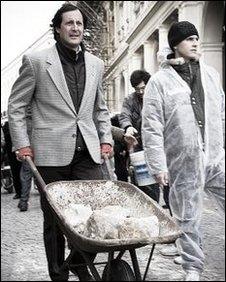 Italian film-maker Sabina Guzzanti has received a standing ovation for her controversial account of the L'Aquila earthquake at the Cannes Film Festival.
Draquila: Italy Trembles attacks Italian prime minister Silvio Berlusconi's handling of the disaster, which left 300 dead.
It suggests the leader used the crisis to boost his image after a series of sex scandals.
Italy's culture minister is boycotting Cannes over the film's inclusion.
Sandro Bondi says the movie is "a propaganda film... that insults the truth and the Italian people."
Speaking after the 90-minute film's debut, Guzzanti admitted it had taken courage to speak out against the Italian government, but she thought the film had been met with a "good reaction".
Mr Berlusconi has pointed to the hands-on response to the crisis in L'Aquila as one of his government's biggest successes.
But Guzzanti claims the politician was too busy planning last summer's G8 summit to make sure that the 60,000 people left homeless by the earthquake were properly taken care of.
Her film portrays him as a vampire, sucking the blood out of the city, leading to the title, Draquila - a compression of the words Dracula and L'Aquila.
The movie acknowledges that Mr Berlusconi pledged money for new homes to be built, but argues it is not nearly enough to re-house everyone.
Meanwhile, it claims, residents have been barred from attempting to repair their own homes for safety reasons.
One year on, L'Aquila is still a ghost town, its centre off-limits because the buildings are unsafe.
Temporary housing for the displaced has been built far from the city at three times the projected cost.
Throughout the course of the movie Guzzanti interviews survivors, who recall the nightmare they endured in the months following the 6.3 magnitude earthquake.
Some of the harrowing scenes of devastation proved hard for the Cannes audience to watch - while other footage included protests turning violent.
Guzzanti says it "took some time" to convince people to speak on camera, but she added that most of the lawyers and officials who spoke were retired and "could speak freely".
Despite the controversy the film, which was released in Italy last week, has already been a big success at the box office.
It has been given added credibility by an investigation into suspected corruption linked to public contracts awarded in the wake of the disaster, which was launched in February.
Guzzanti says L'Aquila residents welcomed the film when it was shown at a special screening in the main town square.
"They knew what happened but they were shocked to see it so clearly.
"But they are in trouble, they are really in trouble because nobody is going to rebuild this city."
Draquila is showing out of competition at the Cannes film festival.
Related Internet Links
The BBC is not responsible for the content of external sites.