Google says it will close Nexus One online store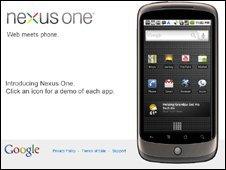 Search engine giant Google says it will no longer sell its Nexus One smartphone through its web store.
Instead, it will sell the device through retail outlets.
In a post on its official blog, Google said the web store, which opened in January this year, had not lived up to its hopes.
Google Engineering vice-president Andy Rubin said in a blog post that the web store had "remained a niche channel for early adopters".
Mr Rubin added: "It's clear that many customers like a hands-on experience before buying a phone."
The move is being seen as a turnaround in Google's strategy, which was intended to bypass network providers and their outlets which traditionally sell mobile devices.
BGC Financial analyst Colin Gillis said: "They clearly have retreated from the model of sort of revolutionizing the method in which we acquire our smartphones."
Laptop Magazine called it a "lesson learned".
The phone will still be available online for a short period, just until Google gets the Nexus One physically into traditional retail stores.
It is a slim, touchscreen phone built in partnership with Taiwanese manufacturer HTC and it runs Google's Android operating system.
The Nexus One is seen as a move to ensure Google remains relevant as people search the web using mobile phones rather than typing queries into a PC.
Google makes the lion's share of its revenue by selling adverts linked to those queries.
Related Internet Links
The BBC is not responsible for the content of external sites.