BA and union to start talks in bid to avert strikes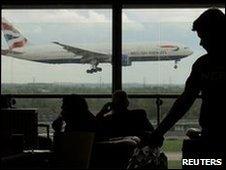 Talks between British Airways and union leaders are due to take place on Monday in a bid to avert a series of strikes by cabin crew.
It comes after BA announced it would take legal action on the same day to try to stop the latest strikes, arguing Unite had failed to comply with law.
Unite says the strike - over jobs, pay and staffing - was legally balloted.
However, the union says it will consider cancelling the first strike if volcanic ash shuts UK airspace again.
The Department of Transport has warned of more disruption from Sunday because of ash from the Eyjafjallajokull volcano in Iceland.
Some of the UK's busiest airports in south-east England could be affected until Tuesday, when the first strike is due to begin.
Tony Woodley, the joint general secretary of Unite, told the BBC he would "seriously consider" calling it off.
"You would have to be stupid to want to ground planes that are going nowhere anyway," he said.
Cabin crew are due to walk out for four separate five-day strikes in May and June.
The first is scheduled to begin on Tuesday, ending on 22 May, with the three further strikes beginning on 24 May, 30 May and 5 June.
Conciliation service Acas made a public offer to both sides on Friday to hold talks and it confirmed they would go ahead on Monday.
Acas chief conciliator Peter Harwood said: "There is now an opportunity for the parties to seriously reflect on the issues and the implications of not reaching an agreement.
"We will be using all of our expertise in any way we can to help the parties reach a resolution."
The new Transport Secretary Philip Hammond is also due to meet Mr Woodley and Mr Walsh separately to urge a settlement.
Mr Hammond, whose Runnymede and Weybridge constituency is close to Heathrow airport, described the strike as "extremely bad news" for BA, its passengers and employees.
"I understand how difficult it can be when people's jobs have to change, but a prolonged series of strikes will weaken the company and put those jobs at risk," he said.
"Aviation is a challenging market and BA must remain competitive, so this strike will ultimately be self-defeating.
"I urge both parties to resolve their dispute to avoid disruption to passengers and safeguard the future of British Airways."
BA has urged its staff to volunteer to work during the strike.
The airline will seek a High Court injunction to stop the strikes on Monday, on the grounds that unions are required by law to send everyone eligible to vote details of the exact breakdown of the ballot result.
"We wrote to the general secretaries of the union yesterday asking them to explain to us how they discharged this obligation and, based on Unite's replies, we believe that they failed to comply with the legal requirement," it said in a statement.
BA is using as an example Network Rail's successful legal challenge against maintenance and signal workers, when the RMT union was found to have balloted staff in signal boxes that had closed.
A Unite spokesman said it would "vigorously defend" the ballot.
"We have already responded to the company, and notified them that we have fully complied with the law. The only way to settle this long-running dispute is through negotiation. A solution is not to be found in the courtroom," he said.
BA took legal action to halt a planned 12-day strike over Christmas.
The two sides have been in dispute for over a year over cost-cutting plans, including staff reductions on flights.
Unite held seven days of action in March and recently ran an online ballot of its members which resulted in rejection of an offer by BA aimed at resolving the dispute.
The union recommended rejection of the deal because BA had not fully restored travel concessions taken away from those who went on strike in March, and because dozens of staff have been suspended.
Unite has said there was a turnout of 71% of the cabin crew it represents, and 81% voted against BA's offer, details of which have not been revealed.
March's stoppages grounded hundreds of flights and cost BA an estimated £45m.
BA has defended its approach to the latest negotiations, saying it had made a fair offer and that the decision to strike showed "a callous disregard" for BA customers and staff.
Related Internet Links
The BBC is not responsible for the content of external sites.