Keane's Night Train steams to album chart victory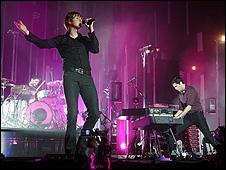 Keane have topped the UK album chart with their EP, Night Train, in its first week of release.
Plan B's The Defamation of Strickland Banks and Lady Gaga's The Remix were in second and third place.
Keane's global album sales now exceed 10 million, according to the Official Charts Company.
Their previous albums Hope and Fears (2004), Under The Iron Sea (2006) and Perfect Symmetry (2008) also hit the top spot.
Night Train has been released just 18 months after Perfect Symmetry, which included the song Spiralling.
The band wrote the songs on the EP while touring to promote the album.
Drummer Richard Hughes said the songs were "inspired by all parts of the world" particulary South America.
"The EP is the flipside of touring for a year, where each night we'd play a song that we'd had for years," he said.
"Writing and recording on the road meant that we could be creative."
Meanwhile, grime collective Roll Deep topped the singles chart for the third week in a row with Good Times.
Jason Derulo and Usher featuring Will.I.Am, were forced to settle for second and third spot.
Edward Maya, Aggro Santos, Plan B, Fyfe Dangerfield, Alexandra Burke, the Glee cast and Kelis completed the top 10.
Related Internet Links
The BBC is not responsible for the content of external sites.