Euro touches four-year low against dollar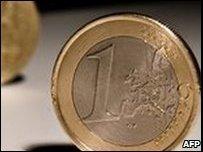 The euro has pulled back from a four-year low against the dollar, although fears over the strength of the eurozone economy remain.
The euro fell to $1.2237 in early trade on Monday, but then recovered to trade at $1.2307.
Traders fear that the austerity measures being put in place in many eurozone countries will hit growth.
Elsewhere on the currency markets, the pound was trading at 1.1698 euros and at $1.4477.
Despite the huge sums of money pledged in support for eurozone countries, severe measures are needed to cut budget deficits and debt.
John Kyriakopoulos, from the National Australia Bank in Sydney, said: "Concerns that severe fiscal austerity in the eurozone will crush growth in the region continues to weigh (on the euro)."
Low growth would also mean low interest rates for the 16-country currency bloc, meaning returns on holding the currency would be poor.
Greece's Prime Minister, George Papandreou, said on Monday that the deep spending cuts his country was making in order to return to fiscal health would only work if they were combined with measures to stimulate growth and investment.
Earlier this month, the European Union and International Monetary Fund agreed a package worth 750bn euros to try to prevent the Greek crisis from spreading to other weak eurozone economies.
That was initially wholeheartedly welcomed by the markets, with rises for both share markets and the euro.
But despite the initial euphoria that greeted that announcement, fears have returned and the euro has begun falling again.
European share markets - which suffered sharp falls on Friday - were mildly positive on Monday, with most major indexes slightly higher.
Meanwhile, as the pressure to defend the euro rises, euro area finance ministers are gathering for talks in Brussels, with Germany and France pushing hard for tough budgetary discipline.