Rio Tinto executives lose appeal in Chinese court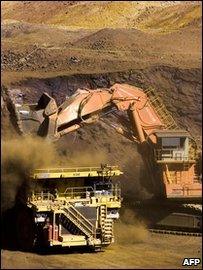 A Shanghai court has rejected the appeals of three former Rio Tinto employees against their sentences for corruption.
The report, from the Xinhua news agency, said the Higher People's Court of Shanghai threw out the pleas by Wang Yong, Ge Minqiang and Liu Caikui.
They, and an Australian citizen, Stern Hu, were convicted in March for commercial espionage and taking bribes.
They all pleaded guilty and were given sentences between seven and 14 years.
The case became high-profile because Rio Tinto is the world's second biggest supplier of iron ore - a crucial commodity for China as it is used to make steel and China is the world's largest steel producer.
Traditionally, iron ore prices were set for the entire year in a round of complex negotiations between producers and users.
Rio recently announced a switch from annual to quarterly iron ore contacts, in line with its competitors BHP Billiton and Vale.
The trial found Mr Hu and the others guilty of taking millions of yuan in bribes and improperly obtaining commercial secrets from Chinese steel companies throughout these talks.
It said they then pushed up the price that China paid for iron ore imports.
The news agency report said: "The facts affirmed by the Shanghai No 1 Intermediate People's Court were clear, the convictions and the sentences were appropriate and trial procedures were legal."
China has not yet announced the verdict for two other Chinese steel executives, Tan Yixin and Wang Hongjiu, who were tried behind closed doors for having leaked information regarding the China Iron and Steel Association's negotiating position during price talks last year.
They were also sentenced on 29 March.
Related Internet Links
The BBC is not responsible for the content of external sites.