Heroes ditched by US TV network NBC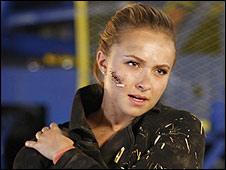 Sci-fi series Heroes has been dropped by US TV network NBC, while Law and Order has been shelved after 20 years.
FlashForward has also been axed as the networks announce their new line-ups for the autumn season.
Heroes, which ran for four series, was ditched after its initially buoyant ratings slumped.
The Law and Order name will continue to exist, with a new Los Angeles-based spin-off announced as one of NBC's fresh commissions.
Other new shows which the network announced includes Undercovers, from Lost creator JJ Abrams.
It has also said it will produce a contemporary remake of 1970s detective series The Rockford Files, which originally starred actor James Garner.
NBC has confirmed it will continue to show The Office, but its star Steve Carell has not signed up beyond the next season.
They have said they are preparing to secure the actor for another season or will consider continuing the show without him.
The network is also planning a special programme to mark the 35th anniversary of comedy show Saturday Night Live.
Heroes suffered a slide in ratings during its second and third series, with fans saying it had a lack of direction.
Creator Tim Kring said it would return to its roots during its fourth season in a bid to win back viewers.
Related Internet Links
The BBC is not responsible for the content of external sites.