Keane's anger at Tory use of song during election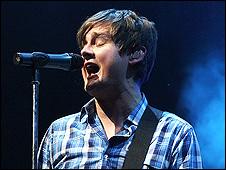 Rock band Keane have called the Conservative Party's use of one of their hits during the election campaign an "abuse of privilege".
The group's Richard Hughes told BBC Radio 4's Front Row programme that their use of Everybody's Changing "implied support in a political party".
Hughes also revealed that he had not voted for the Conservative Party at the general election.
The Sussex band are at number one in the album chart with Night Train.
Hughes, who wrote on his Twitter feed last month that he was "horrified" by the use of their song at the Tory manifesto launch, said it was assumed the band were party supporters.
"I feel at that kind of event it would just be polite to check that the band wouldn't mind being associated with the party," he said.
Frontman Tom Chaplin added they had received a letter from a Conservative Party lawyer saying the song "was in no way intended to support David Cameron's campaign".
"It's quite strange... seems at odds with him walking onto the stage with Everybody's Changing blaring out in the background," added the musician.
Hughes admitted that pop songs have been used at political rallies for years.
David Bowie's song Changes was also played at the manifesto launch last month.
In the 2008 US presidential campaign, acts including Heart and Bon Jovi expressed their disapproval that their music had been played at Republican Party events.
The full interview with Keane will be broadcast on BBC Radio 4's Front Row programme which starts at 1915 BST.
Related Internet Links
The BBC is not responsible for the content of external sites.