European car sales fall for first time in 10 months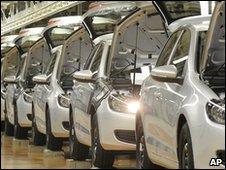 New car registrations in Europe fell in April from a year ago, the first year-on-year drop for 10 months.
The figures, from the European Automobile Manufacturers' Association, Acea, show 1.14 million cars were registered, down 7.4% on last year.
Acea said the fall - as much as 25% in some countries - came as government schemes designed to stimulate sales of new cars were wound up.
These were launched in many European countries early last year.
The programmes succeeded in boosting sales, but now they have either finished or are coming to an end, sales have dropped compared with a year ago.
Acea said in a statement: "In the first months of the present year ... government support has ended or begun to fade out and the economic situation remains difficult."
Germany, whose scheme ended in September, saw the biggest year-on-year fall in registrations, with a drop of 31.7% on last April.
France, whose scrappage scheme is still in place, albeit at a reduced level, saw a 1.9% rise in registrations.
In terms of companies, the clear winner was Japan's Nissan, which saw 38.3% more new Nissans on the road in April compared with a year ago.
BMW recorded an increase of 13.1%, while Renault sales rose 8.7%.
Fiat was the biggest loser with registrations down 27.3%, Toyota - which has seen a raft of high-profile safety recalls - saw its sales drop by 20.7%, while GM saw registrations decline by 19.1%.
Taking the first four months of the year together, registrations were 4.8% higher than a year ago. However, they were well down on levels before the crisis hit - 11.6% fewer cars were registered in the same period in 2010 than in 2008.
Related Internet Links
The BBC is not responsible for the content of external sites.