Nissan reveals electric motoring prices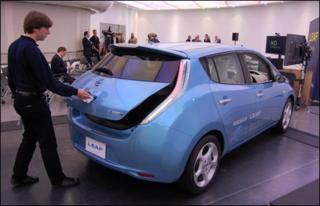 It is never a given that the price of a gadget includes the battery.
But in the world of car dealers, it seems selling the battery separately from the car it will power is a bad idea.
"Buying the car and leasing the battery would add confusion," explains Simon Thomas, senior vice president, sales and marketing, at Nissan International.
The Japanese carmaker hopes to steal a march on its rivals in the race towards electric motoring when its Leaf electric car hits the road later this year.
So Nissan has ditched an earlier idea of leasing the battery to address any concerns about their life and quality.
"We didn't think it was the right model for consumers," said Mr Thomas.
Confusing price structure
Instead, the company has announced the on-the-road prices it will charge for its first electric car when it goes on sale in Europe later this year.
In most markets in Europe, the Leaf will cost less than 30,000 euros - in the UK the price will be £23,350 - once various government subsidies have been taken into account.
But although all countries in Europe are providing subsidies for electric motoring in some way, each of them is taking a different approach, so the overall picture remains confused.
"Governments in Europe are moving at different paces," explains Mr Thomas, hence the car will be launched at different times in different markets and the price will also differ depending on where the car is sold.
The main thing to remember, however, is that "there is not a premium for electric vehicles (EVs)," according to Mr Thomas, who points out that the Leaf will cost about the same as rivals such as Toyota's petro-electric Prius or Volkswagen's frugal diesel-powered Golf 1.6TDi.
Low volume
But Europe's tax and subsidy muddle is not the only distraction facing prospective Leaf customers. Nissan is also coming across as vague with regards to what exactly customers will get for their hard-earned cash.
Rather than presenting a clear idea of what it is offering here, Mr Thomas says Nissan would soon present a "new acquisition message" that would offer customers a new way "to buy and use and maintain this vehicle".
The corporate speech may come across as rather foggy, but Nissan has every reason to pamper to consumers' anxieties, whether in relation to the range or to the quality of the battery technology underpinning the Leaf.
Nissan is playing a long game here; the Leaf's main job is to pave the way for future models rather than achieve high volumes on its own.
"This car's sales volme will be set by our capacity rather than by demand in the first few years," says Mr Thomas, pointing out that early orders and the number of consumers who have expressed an interest in buying a Leaf far outstrips capacity for some time to come.
Niche product
Predictably, early interest has come from "ecologically-friendly, green-minded individuals" and from "early adopters" who like to be the first to get their hands on new technology, according to Thomas Smith, Nissan's head of marketing in Europe.
The next challenge will be to make electric cars desirable to ordinary people, so Mr Smith counters suggestions that a limited range can be inconvenient by instead stressing "the ability to charge at home and not have to go to a petrol station again".
Similarly, Mr Thomas counters concerns about the safety of batteries by pointing out that "at least you're not carrying around 60 litres of inflammable fuel".
It is a tricky message to get across, not least since the benefits of electric cars are best illustrated by comparing them to conventional cars powered by petrol or diesel engines, which will continue to dominate Nissan's output for decades yet.
Nissan predicts that electric cars will account for no more than a tenth of global car sales by 2020 and even this prediction is hugely optimistic by many of its rivals' standards.
In other words, it is clear that electric cars will remain niche products for years to come.
Ahead of the pack
But that is not to say that Nissan is barking up the wrong tree.
"Electric vehicles are going to be a part of the motoring solution," insists Mr Thomas.
"They are not for everybody, but there is sufficient usage out there to create a demand for EVs as long as they are affordable and meet consumers' needs."
Nissan hopes to grab more than its fair share of the electric motoring segment, aided by its early entry into the market.
Nissan has invested some 2bn euros over the last four years in its electric motoring project, along with vast sums pumped in by governments to support projects such as the electric charging infrastructure.
Add investment by Nissan's alliance partner Renault to the equation and the carmakers' investment is 4bn euros, and the flood of money is not about to be turned off.
"I do feel we have a first mover advantage," says Mr Thomas. "To go bottom up takes four years so it's going to take a long time for some manufacturers to catch up."
So while other carmakers are deciding whether or not to get involved, some whilst trialing electric versions of their existing models, Nissan is preparing for the launch of four electric cars over the next couple of years, including one from its upmarket Infiniti subsidiary, with a further four electric models due from alliance partner Renault.
Hence Mr Thomas' refusal to discuss when and whether the Leaf will become profitable is rendered largely irrelevant, not least since it seems likely that as a single model it never will be.
But by the time the global market is large enough to support the sale of 500,000 electric models per year from Nissan, the company says it will be ready to move forward without further assistance from governments.
"Government incentives have made it viable for consumers. Economies of scale will ensure it remains affordable even after government incentives have ended," says Mr Thomas.
"Over its life, the project will be profitable for Nissan."