Rosneft reports 19% rise in quarterly profit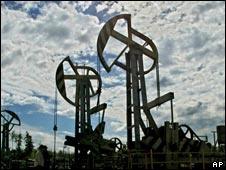 Russian state oil giant Rosneft has reported a 19% rise in profit for the first three months of 2010 compared with the same period a year ago.
Its quarterly net profit rose to $2.45bn (£1.7bn), thanks to higher oil prices and an 8.4% increase in daily crude output.
The output growth was helped by the launch of the Vankor field in the Arctic in August 2009.
The London-listed company said that revenues rose by 79% to $14.76bn.
"Our main achievements in the first quarter 2010 were high rates of crude oil production and refinery throughput growth, as well as continued successful cost control," Rosneft head Sergei Bogdanchikov said in a statement.
The company noted that increases in transport costs and tax payments had led to slower profit growth.
Rosneft also reported that it had managed to decrease its net debt by $2.1bn to $16.4bn in the first four months of 2010.
Speaking of the company's main priorities, Mr Bogdanchikov highlighted "continued development of the Vankor field to reach the targeted production level by 2014, as well as modernisation of refining capacities".
Related Internet Links
The BBC is not responsible for the content of external sites.