Festivals shunning sponsors' cash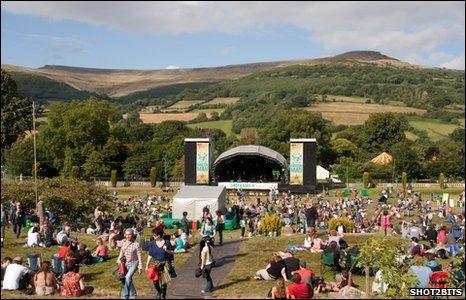 They are praying for another dry, warm weekend in the Brecon Beacons when the Green Man music festival takes place in late August.
But even if the sun is shining, punters should not expect to be sitting back enjoying Mumford & Sons or Billy Bragg while licking a Cornetto.
"We had Walls ice cream approach us to be a sponsor last year," says the festival's managing director Fiona Stewart.
"They would have given us lots of money as well, which would have been nice, but then we'd have had to sell their products.
"Anyway, we've already got handmade ice cream from Wales which our audience is used to and, to be honest, I much prefer it as well."
There are an estimated 900 music festivals being held in the UK this summer, and with many of them likely to lose money, the clamour for sponsorship money is fierce.
But for some, like Ms Stewart, a smaller profit is an acceptable price to pay to avoid their event having any sort of corporate feel.
"Green Man was created by a group of people who had worked on loads of other festivals and we started this festival based on relationships with contractors," she says.
"There's never been any outside funding or backing, so we've always had a massive independence."
As a well-established event, boasting acts including Doves and the Flaming Lips, Green Man is set to sell out its 12,000 capacity within weeks.
This popularity means companies continue to approach it with ideas for sponsorship or simply seek to pay for a presence on the site - perhaps giving out samples of their products.
But most will get short shrift.
"It's not that we are totally against sponsorship," Ms Stewart says.
"If we found a company that we really liked, maybe an eco-organisation, or someone who wanted to do things for one of the charities we work with, then we'd probably do it.
"But we have a loyal fanbase and don't want to do anything that would destroy what we have."
In a different field, this time in Kent, music lovers will be able to spend an early July weekend watching Bob Dylan and former Kinks frontman Ray Davies perform at Hop Farm - the name of a festival that proudly boasts it is free of sponsorship, branding or VIP areas.
"It's quite refreshing for me to see that it's a non-sponsored event - we're trying to get it back to the basics," says promoter Vince Power.
"What matters is the music and the people, instead of walking around the site and being envious and thinking, 'I wish I could get into that VIP tent or that one.'"
Mr Power admits that he could be seen as a "a bit of a hypocrite".
The Mean Fiddler empire he started in 1982 oversaw some of the largest summer festivals - and with them came huge sponsorship deals, including beer company Carling's backing of Leeds and Reading.
Another event he now owns, Spain's Benicassim festival, has massive corporate backing from a beer firm, an energy drink brand and a mobile phone company.
But, after a hiatus following the sale of his Mean Fiddler stake - which included a clause that he could not set up a rival event within three years, he said he had an opportunity to "clean the slate".
"In a way, it happened anyway. There is not a huge amount of sponsorship out there and it's not the main thing that determines whether or not a festival survives," he says.
"The main ingredient now is whether you've created your own brand and whether or not you've got a good enough bill."
Last year's Hop Farm made a loss - largely because the headliners, such as Paul Weller, were not a big enough draw to sell sufficient tickets.
But this did not lead to any change in strategy for this year's two-day event, which also includes Van Morrison.
"Let's not kid ourselves, people will be coming to see Bob Dylan. But they didn't buy the ticket to say, 'I'm going to see Dylan but I also agree to just drink a certain type of lager.'
"We're offering a freedom that you don't have in most festivals.
"We've had good feedback on our websites that people really like it. They like the fact that you can go and get a pint of cider from a local cider maker or a pint of beer from a local brewery."
Without sponsorship, he relies on income from tickets (which at £65 for a day or £110 for two days, not including camping, are at the higher end of the market given the length of the event and the relatively few acts) as well as sales of food, drink and merchandise.
"If I don't make as much money as I would if I had sponsorship, then it doesn't really bother me," Mr Power says (with more ease than he might do if his successful career had not left him as a multi-millionaire).
"As long as I can pay the bills and have a good time, you know, and just come back next year and do it again."
Other sponsor-free events include the murder mystery-themed 4,000 capacity Standon Calling in Hertfordshire, whose website proclaims: "We don't like ugly adverts much and we're guessing you don't either, so we're doing our best not to sell out."
However, not all feel able to take such a seemingly cavalier approach.
For Graeme Merifield, director of the Wychwood Festival, Cheltenham, sponsors are a key part of funding the event - so long as it is relevant to the kind of person attending.
And that is why he signed a deal with a name unlikely to attract too many rock n' roll associations - the top-end supermarket Waitrose.
Besides the cash for the sponsorship - which industry sources say is likely to have run into tens of thousands of pounds (the equivalent of perhaps selling an extra 500 tickets) - the festival also benefits from Waitrose's marketing clout, from mailing lists to magazines.
"We'd been trying to get Waitrose interested for a while, because we thought it would work well," Mr Merifield says.
"It's a relatively ethical brand and really we have the same kind of audience."
However, various other sponsorship proposals had been dismissed as unsuitable, Mr Merifield said.
"I think people come to Wychwood because of the music and the experience and if you put things there that went against what we have suggested we stood for, then our audience, quite rightly, would not be happy."
There are plenty of events which continue to have headline sponsors - including the Barclaycard Wireless Festival, the V Festival (backed by Virgin) and the Gaymers Camden Crawl.
Many others, including the likes of Glastonbury, have awarded lucrative pouring rights contracts to major brewers, or allow firms prominent space on site.
But a trend for some events to move away from sponsorship was not unsurprising, according to Richard Thompson, of the consultancy Brand Rapport.
He says that while it was well-established in sport, there had always been "a bit of reticence" from many in the music industry.
"Sponsors can help music events and I think music fans realise that the backing a sponsor offers can mean things like better facilities, better toilets," Mr Thompson says.
"But with music, there has been a bit of an attitude of free-thinking and especially with artists, once you start getting too closely associated with a sponsor or branding, then these people tend to think they are selling out.
"I think that maybe what people like Vince Power are doing is saying that the festival industry has gone a bit soft and trying to create something more like festivals used to be."
Related Internet Links
The BBC is not responsible for the content of external sites.