Hampshire's business vision for cricket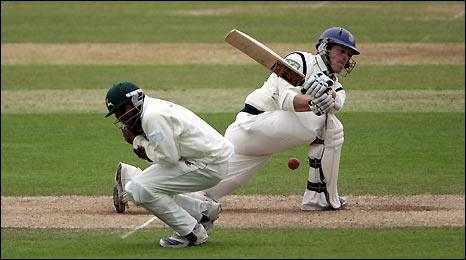 The success of England in the recent cricket Twenty20 World Cup has drawn renewed attention to the short game format and what it can potentially do for the domestic game.
One person who is in no doubt is Rod Bransgrove, the man who is said to have saved Hampshire County Cricket Club when it faced financial googlies a decade ago, brought about by the county's move to a new stadium.
Not only was the club saved, but it continues to play at the impressive 9,000 seater Rose Bowl stadium on the outskirts of Southampton, currently in the process of being extended to 15,000 through the addition of two new stands.
And Mr Bransgrove sees a new, invigorated, English Twenty20 cricket competition as being "the kernel" of a cricket offering that would also include Test, county, and one day games too.
"We invented the game in England but we don't seem to have exploited it properly," he says.
"It has assumed almost religious proportions in India, with the Indian Premier League (IPL).
"It so clearly is a winner with the public."
English cricket's governing body, the England and Wales Cricket Board (ECB), already has a short form tournament of its own, and is currently rebranding and relaunching its Twenty20 Cup.
While acknowledging this competition, Mr Bransgrove believes that an English version of the game based on the franchise model of the IPL would be the best way to ensure that new followers, and customers, were brought to cricket.
"A new audience is not being being brought in by Test, county or 40-over cricket," says Mr Bransgrove, who made his fortune from pharmaceuticals in the 1990s.
"An English Premier League (EPL) tournament could be played when kids are on holiday, and when big overseas players come over. It could be played over three or four weeks."
And he says that he is "agnostic" whether the franchises of the teams taking part were awarded to city-based teams, or around the current county structure.
He also believes that concerns about exactly which counties could take part in an EPL-type structure are gradually being addressed.
Mr Bransgrove had always been a Hampshire cricket fan and at the turn of the decade was asked by the voluntary committee running the club to become its chairman.
"When I joined I realised rather quickly that my cricket club was at risk of going out of business," he recalls.
"I did not want that to happen."
With the club insolvent by about of £1.2m and the move to the 150-acre Rose Bowl site under way, he knew things had to be turned round.
"I recognised they were in trouble, and, unlike every other business I have been involved with, I thought 'how on earth am I going to make any money out of this?'"
The Rose Bowl was formed as a company, with the county cricket club just one element of the business.
"There had not seemed to be much thought beyond providing the cricket offering," he says.
"But I thought it was too big, too fantastic, a place to be involved in just that."
Now, money is earned not only from from cricket matches, but also from hosting conferences, events and concerts by the likes of REM, Oasis and Neil Diamond.
A nine-hole golf course has also been installed as another revenue earner, and there are plans to enlarge it to an 18-hole championship-length course at a cost of about £5m.
And there are plans to built a four star residential hotel in the environs of the Rose Bowl stadium, although this is being challenged by some local hoteliers.
"My mission has been to try and create a business that would be viable in the long terms, and keep the name of Hampshire Cricket Club alive in perpetuity, so they would never be in trouble again," says Mr Bransgrove.
To help ensure that a golden share has been created, meaning that anything Rose Bowl proposes that would stop cricket being played at the stadium has to have the approval of Hampshire CCC.
Visitors to the stadium in the picturesque Hampshire countryside will be struck by the large-scale building works, with the two new stands being built.
Of the 15,000 permanent seats, which the expanded stadium will ultimately hold, some 6,000 will be under cover.
The use of a further 10,000 temporary seating places can then increase the maximum capacity to 25,000 seats when needed.
The stadium expansion allows the Rose Bowl to become a Category A status stadium, one fit for hosting England Test match and one day internationals.
The two new stands have to be delivered by 18 June for a one day international between England and Australia on 22 June.
"I go through the building schedules constantly," Mr Bransgrove says. "Every day it is a fight to stay on schedule, but each day we win the battle and hopefully stay on schedule."
Another innovation has been the tie-up of Hampshire's limited overs team with the Rajasthan Royals in India, creating the Hampshire Royals team.
Mr Bransgrove hopes the relationship will allow opportunities for cross-nation sponsorships, brand awareness, player exchanges, and international tournaments around the Royals brand, as other cricket teams also adopt the name.
"We don't know the benefits of this tie-in yet," he says. "We have probably only investigated about two-thirds of the opportunities available."
As a means of raising funds, the club has issued a debenture scheme, whereby supporters pay a sum of money which guarantees them the right to buy a seat in the stadium for a set number of years.
The fans receive a 5% annual return on the money they have given the club, and the cash is returned to them after seven years.
The aim was to raise between £1m to £1.5m, but, in what Mr Bransgrove calls "an unbelievable success", it has raised £2.5m.
For all their innovation there has been flak directed at Hampshire from more traditionalist quarters.
"One of the disadvantages of innovation, you do leave yourself open to some criticism," he says.
"But most of what we do is eventually copied elsewhere. And our members and supporters have gone with us."
Meanwhile, Mr Bransgrove continues to bang the drum for a new Twenty20 event in England.
"If we have been guilty of anything in this country, we have put all our cricketing eggs in the international basket," he says.
"We are assuming the only way to bring financial returns to cricket is by playing international games, and we are jeopardising the quality of product."
He believes these international Test matches are "gladiatorial contests" which should not be cheapened by over-availability and over-exposure.
"We should be using Twenty20 to reinvigorate county cricket instead of over reliance on the broadcasting of Test matches, which is diluting the product."
Related Internet Links
The BBC is not responsible for the content of external sites.