Charlie Sheen to stay on US show Two and a Half Men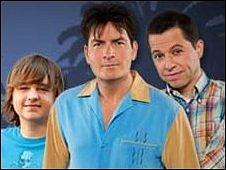 Actor Charlie Sheen is to star in US sitcom Two and a Half Men for another two seasons, it has been announced.
"I'm looking forward to returning to my CBS home on Monday nights," the 44-year-old said in a statement.
Sheen threatened to leave the show amid reports that he was demanding up to $1m (£690,000) per episode. Details of the new agreement have not been released.
The actor is also facing trial in July over domestic violence charges, which he has denied.
He pleaded not guilty to menacing, criminal mischief and assault in a pre-trial hearing in March.
The charges stem from an alleged altercation with his wife, Brooke Mueller Sheen, on Christmas Day 2009.
At the time, she told police Sheen had put a knife to her throat and threatened to kill her. She has since said she wants the charges dropped.
In the TV show, Sheen plays a bachelor whose brother and nephew move into his flat after a divorce.
His future in it was thrown into doubt some months ago after he indicated he wanted to spend more time making films.
He also said the production demands of the show had become too great after seven years in the role of bachelor Charlie Harper.
The actor subsequently denied allegations of last minute wage demands as negotiations continued with CBS.
He told People magazine that his terms had been submitted to the network last year, which is committed to the show until at least 2012.
Related Internet Links
The BBC is not responsible for the content of external sites.