Australia's Macarthur Coal snubs Peabody takeover bid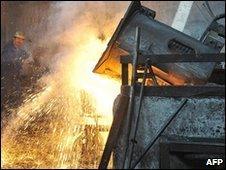 Australian miner Macarthur Coal has rejected a bid from US firm Peabody Energy as too low - seemingly ending a bidding war for the firm.
Peabody's 3.82bn Australian dollar ($3.44bn; £2.64bn) offer was about A$250m less than it had previously bid.
That lower offer came after the Australian government proposed a 40% tax on the profits of mining firms.
Macarthur had already rejected Peabody's first two offers and advances from Australia's New Hope.
Instead, Macarthur wanted to buy rival Gloucester Coal - though that was scuppered when Gloucester's major shareholder would not back the offer.
Shares in Macarthur fell by 15% on Tuesday - close to levels seen before Peabody's first bid.
Coal prices have doubled since the beginning of 2009.
China's coal imports have tripled thanks to the recovery in the steel industry - which uses coal - as the global economy recovers from recession.
Macarthur is the world's largest producer of pulverised injection coal - the type used in steel making.
Earlier this month, the Australian government proposed a new tax on the profits of major resources companies, as part of a wider review of its tax policy.
The proposal hit share prices of mining firms and led to an angry reaction from the industry, which is widely seen as having driven Australia's growth and kept it out of recession.
Related Internet Links
The BBC is not responsible for the content of external sites.