Personal pension contributions dip by £1bn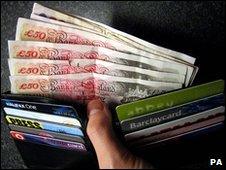 The amount of money paid into personal and stakeholder pension plans fell by £1.1bn, or 5%, during the recession, according to figures from HM Revenue & Customs (HMRC).
Employees, employers and the self-employed paid in £19.7bn between them in 2008-09, down from £20.8bn the year before.
This was the first drop since the mid-1990s and was mainly due to lower employee contributions.
They fell by £1bn, or 16%, to £5.3bn.
The amount of money paid in by the self-employed also fell, by £200m to £3.7bn, while employer contributions rose, from £7.4bn to £7.7bn.
"A collapse in pension saving of this magnitude will inevitably have repercussions further down the line unless savers make good their missed contributions," said Laith Khalaf of financial advisers Hargreaves Lansdown.
"As things stand individuals are understandably reluctant to put money away for their retirement when their immediate future looks uncertain."
Savings into personal and stakeholder pension schemes rose strongly after 2006 when the previous HMRC limits on personal pension savings were relaxed under an industry-wide process known as pension simplification.
But higher unemployment and the squeeze on personal finances caused by the recession has halted the upward trend.
"Faced with uncertainty over future earnings it is understandable that some chose not to save into a pension in case they needed money in a hurry," Mr Khalaf said.
Related Internet Links
The BBC is not responsible for the content of external sites.