UK inflation hits 17-month high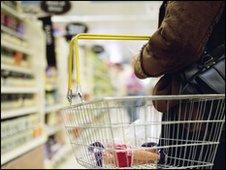 UK inflation accelerated again in April to hit its highest rate in 17 months, official figures show.
On the Consumer Prices Index (CPI) measure, inflation hit 3.7% - well above the target of 2% and the highest rate since November 2008.
On the Retail Prices Index (RPI) measure, which includes housing costs, inflation was up to 5.3% - its highest rate in 19 years.
The RPI measure is commonly used to decide pay rises or pension payments.
The Office for National Statistics (ONS) said food prices in particular had seen sharp rises.
The cost of food rose by 2.6%, the ONS said, thanks largely to rising transport costs over the last 12 months.
Fuel costs have increased by more than 25% in that time, the ONS said.
Last month's disruption caused by volcanic ash had little impact on prices, however.
Higher duty on alcohol and cigarettes introduced in April's Budget added to inflation in April, the ONS added, and clothes prices also rose.
Bank of England governor Mervyn King has written a letter of explanation to the new Chancellor, George Osborne, as the official CPI measure remains more than one percentage point above the 2% target.
Earlier this month, Mr King said he expected inflation to be higher in the coming months than previously forecast, but insisted that it would slow to below the 2% target before the end of the year.
In his letter, the governor said inflation had accelerated significantly since September last year.
He blamed rising fuel prices, the rise in VAT and the fall in the value of the pound for the rising trend.
But he warned that these temporary factors were "masking the downward pressure on inflation from the substantial margin of spare capacity in the economy".
"If the recovery continues as expected, that will gradually erode the slack in the economy, bringing inflation back to target," Mr King added.
In his letter to Mr King, Mr Osborne said he noted that the Bank's view was that the "current elevated rate of inflation is expected to be temporary".
"I am sure that you will remain vigilant towards any upside risks to inflation," he added.
The Bank of England's key interest rate remains at a record low of 0.5%, and this rate is unlikely to rise soon according to economists.
"We do not expect the Bank of England to increase interest rates this year in response to what is a short-term pick up in inflation," said Hetal Mehta, senior economic adviser to the Ernst & Young Item Club.
Howard Archer, chief economist at IHS Global Insight, said he expected inflation to begin falling again immediately.
"April's consumer price inflation rate of 3.7% should mark the peak," he said.
"Inflation is expected to start heading down in the near term as temporary upward pressures start to unwind."
Low interest rates are likely to continue to frustrate savers.
"Savers have been having a rough ride thanks to a combination of ultra low rates and rising inflation," commented Andrew Hagger from Moneynet.co.uk.
But he added that a small number of savings accounts offering interest rates of up to 5% were still available.
Related Internet Links
The BBC is not responsible for the content of external sites.