Joy Division inspire school symphony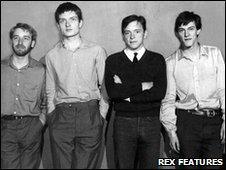 A Joy Division symphony is to be created as part of a series of events to mark the 30th anniversary of the death of the band's singer Ian Curtis.
The Northern Chamber Orchestra will work with schoolchildren in Curtis's home town of Macclesfield, Cheshire, to compose the work.
Curtis committed suicide on 18 May 1980. A map, including the house where he took his life, is also being sold.
And an exhibition will include items such as letters, posters and set lists.
It will include a handwritten note from Curtis about the group's acclaimed second album Closer, in which he wrote: "This LP is a disaster."
The exhibition, curated by journalist Jon Savage, will be staged at the town's 1813 Sunday School Heritage Centre from 29 July until 7 August.
"This exhibit brings together a wide range of material - posters, handbills, hand-written documents and other memorabilia - for the first time," Savage said.
The Joy Division Symphony will take its inspiration from three songs and is currently being composed by students at two local schools alongside musicians from the Northern Chamber Orchestra.
The orchestra's education co-ordinator Helen Quayle said: "The style of music is quite sparse and very simple. The kids can understand and take elements of that and write for a string quartet using the same technique."
Festival director Richard de Peyer said: "Macclesfield has never had the opportunity to celebrate Ian Curtis's work in a way which benefits the communities of the town and also attracts music fans from far and wide.
"This summer seemed like the right moment to do that."
Related Internet Links
The BBC is not responsible for the content of external sites.