Radio is the 'most trusted' source of news, says Ofcom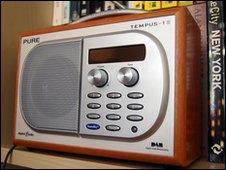 Radio is the most trusted source of news in the UK, beating both TV and the internet, according to a report from Ofcom.
The regulator found that 66% of people considered radio to be reliable and accurate, compared with 58% for online, 54% for TV and just 34% for newspapers.
It is the first time that news websites have overtaken television as a trusted source for current affairs.
The survey, of 1,824 people over the age of 16, was conducted in 2009.
It discovered that, outside of news, most people were still sceptical about the quality of information they found on the internet.
Just three in 10 adults rated websites as "reliable and accurate" with TV and radio coming out on top.
Newspapers were still deemed the most untrustworthy medium.
The survey also found the use of digital TV, internet and mobile phones had increased since 2007.
About three quarters (73%) of adults used the internet in 2009, up from two thirds (63%) in 2007, while 91% of the population used a mobile phone.
Half of all internet users said that using the internet had increased their contact with friends or family who lived further away, and about a quarter said it had increased their contact with friends who live nearby.
Social networking sites such as Facebook were among the most popular sites, with 35% of respondents regularly using the internet to keep in touch with family and friends.
Twice as many internet users had a social networking site profile (44%) compared with 2007.
Related Internet Links
The BBC is not responsible for the content of external sites.