Pfizer announces plans to cut 6,000 jobs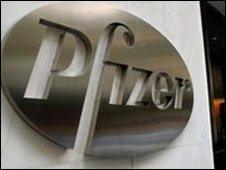 Drugmaker Pfizer has said it is to cut 6,000 jobs worldwide - almost a fifth of its workforce - over the next five years as part of a major restructuring.
It will close eight plants and scale back operations at six other factories. The changes follow Pfizer's purchase of rival Wyeth last year.
Three plants will be closed in the Irish Republic, leading to the loss of up to 785 jobs there.
Two Pfizer plants in County Cork will close and a factory in south Dublin.
It is also scaling back operations at Newbridge, County Kildare, and also at the plant at Havant in the UK.
"The restructuring of our global plant network is critical to our efforts to remain competitive so that we can continue to meet patient needs and expand the access and affordability of our medicines," said Pfizer global manufacturing president Nat Ricciardi.
"We are keenly aware of the impact these types of changes have on employees and their families," Mr Ricciardi said.
"We will provide support to our colleagues who lose their jobs so that their transition to new careers is as smooth as possible."
Pfizer said the move had been made in reaction to the fast-changing and competitive environment in which it operates.
Pfizer is the maker of the Viagra erectile dysfunction drug and cholesterol drug Lipitor.
The firm has 78 manufacturing sites and employs about 33,000 people worldwide.
The timing of closures, or "exits" as the firm calls it, will depend on a number of factors, including the complexity of operations at each individual plant.
In addition the firm said it would look to find buyers for the sites "in an effort to preserve jobs and minimize the impact to communities".
Related Internet Links
The BBC is not responsible for the content of external sites.