Man denies charges he faked his way into Harvard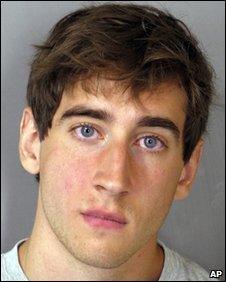 A former Harvard student has pleaded not guilty to charges he faked his academic record to win a place at the Ivy League university.
Adam Wheeler, 23, of Milton, Delaware, faces 20 counts of larceny, identity fraud and other charges over his 2007 application to the institution.
Prosecutors said Mr Wheeler told the admissions office he had attended top schools and earned perfect grades.
The student essentially stole $45,000 from Harvard, prosecutors said.
The alleged deceit went undetected for nearly two years until Mr Wheeler applied for prestigious scholarships, whereupon a Harvard professor reviewing his application became suspicious.
"This defendant seriously undermined the integrity of the competitive admissions process, compromised the reputation of some of the finest educators and educational institutions in the country, and cheated those who competed honestly for what he fraudulently received," Middlesex county District Attorney Gerard Leone said.
In September 2009, Mr Wheeler applied for the university's endorsement in his bid for Rhodes and Fulbright scholarships, listing among his accomplishments books co-authored, lectures given and courses taught, officials said.
But a Harvard professor reviewing the application became suspicious after finding evidence that Mr Wheeler had plagiarized from another professor, Mr Leone said.
A subsequent investigation revealed Mr Wheeler had never studied at either the Massachusetts Institute of Technology or Phillips Academy in Andover, Massachusetts and did not have perfect test scores as he had claimed on his initial Harvard application, prosecutors said.
Investigators also learned the student had been suspended from Bowdoin College in Maine amid an accusation of academic dishonesty, and that letters of recommendation he submitted had not been written by their purported authors, officials said.
Mr Leone said that Mr Wheeler, who was studying English, was caught out again falsifying his achievements and recommendations when he tried to transfer to Yale and Brown universities.
A Harvard spokesman said privacy laws prevented the school from discussing individual students.
But the spokesman said that in general, when the school discovers a student has falsified application materials the student is expelled.
Mr Wheeler pleaded not guilty on Tuesday to charges including larceny, identity fraud, falsifying an endorsement and pretending to hold a degree.
Related Internet Links
The BBC is not responsible for the content of external sites.