BMW recalls 122,000 motorcycles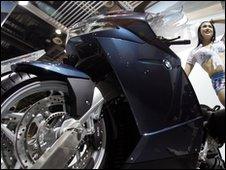 BMW is recalling 122,000 of its motorbikes around the world- most for the second time - because of potential brake problems.
A spokesman stressed that no accidents had been reported and said only a small number of complaints had been received.
The motorcycles were manufactured between August 2006 and May 2009.
Some have already had their braking systems checked and corrected, but the problem still has not been completely solved.
The number of bikes recalled accounts for around a third of all BMW bikes produced during that time, the company said.
However, the company believes that the problem affects only a very small proportion of those recalled.
Those involved are the R 1200 GS Adventure model, the R 1200 GS, the R 1200 R, the R 1200 RT, the R 1200 ST and the K 1200 GT.
BMW began notifying dealers in late April about the continued potential faults. Affected owners who have not yet been contacted by their dealer should get a letter in a few days, said a company spokesman.
Letters received by British owners of the bikes said vibrations could cause the front brake lines to develop leaks, which could allow brake fluid to escape and lead to brake failure.
The company said the bikes were safe to ride, as long as there was sufficient brake fluid in the system.
Related Internet Links
The BBC is not responsible for the content of external sites.