At least nine killed in central Europe floods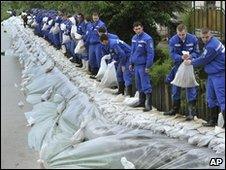 Floods in central Europe have left at least nine people dead, officials say.
Parts of Poland, Slovakia, Serbia and the Czech Republic have been inundated after days of heavy rain burst river banks and inundated low-lying areas across the region.
It has forced the closure of the Auschwitz-Birkenau Holocaust memorial.
Five people are confirmed to have died in southern Poland, two in Serbia, one in Slovakia and one in the Czech Republic.
Tuesday saw Polish Prime Minister Donald Tusk visit areas where 2,000 residents have been evacuated.
Evacuations were also ordered in the Czech Republic, where 3,500 homes were hit by power cuts.