Sugababes fight Mutya Buena over name rights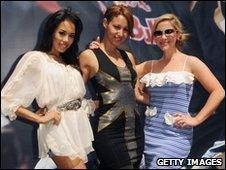 Members of Sugababes have begun a legal battle over ownership of the pop group's name after former member Mutya Buena applied to own the trademark.
Buena, a founding member of the group, applied to the European Union trademarks authority in November 2009.
Now the current line-up - Heidi Range, Amelle Berrabah and Jade Ewen - have filed a notice of opposition, as have their record company, Island Records.
Range has previously told the BBC that their record company owns the name.
An Island Records spokesman said: "Contractually we are entitled to the use of the name Sugababes in connection with records and films. We are just protecting that right."
But when the last original member, Kiesha Buchanan, left last year, Buena commented: "It just means the Sugababes have ended."
In a letter to the EU body, Universal's Island Records said that because of the "similarity of the goods and services" provided by the applicant - Buena - "there is a likelihood of confusion on the part of the public".
Buena is currently working on her second solo album, following the release of her debut Real Girl in 2007.
If her application is successful, it could mean that she will own the rights to use the Sugababes name on goods such as CDs, DVDs and books.
The Sugababes line-up has changed several times since the original group was formed in 1998 by founding members Siobhan Donaghy, Mutya Buena and Keisha Buchanan.
Donaghy left in 2001, with Range replacing her. Buena left the band and was subsequently replaced by Berrabah.
And last year, it was confirmed that the last original Sugababe, Buchanan, was leaving the group - she was then replaced by former Eurovision contestant Ewen.
The Sugababes have enjoyed several UK number one singles, including Freak Like Me and Push the Button.
Their latest album, Sweet 7, debuted and peaked at number 14 on the UK chart, making it the group's lowest charting album since 2000's One Touch.
The Sugababes are currently recording the group's eighth studio album.
Related Internet Links
The BBC is not responsible for the content of external sites.