EU eases trade with Latin America at Madrid summit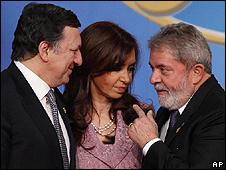 The EU plans to boost trade with Latin America despite warnings from some European ministers and farmers, who fear unfair competition.
EU negotiations with the Mercosur trade bloc, frozen since 2004, will reopen. The Mercosur group embraces Argentina, Brazil, Paraguay and Uruguay.
Trade deals were also reached with Central America, Peru and Colombia, following marathon talks in Madrid.
A European farmers' group said a deal with Mercosur would hurt EU farming.
The new EU initiatives include a 125m-euro (£107m; $154m) Latin American Investment Facility, which EU Commission president Jose Manuel Barroso said "could leverage investments well in excess of 3bn euros".
"We have opened a ground-breaking chapter in the EU relationship with our LAC [Latin America and Caribbean] partners," he said.
The EU is pursuing regional trade agreements while global trade talks - the so-called Doha Round - have failed to make progress.
Many Latin American leaders voiced fears that the economic crisis might unleash a wave of protectionism and anti-immigration measures in Europe, the Spanish news agency Efe reports.
Economic growth in Latin America this year is expected to reach 4% - far above the 1% that the International Monetary Fund forecasts for the 27-nation EU.
On Monday, French Agriculture Minister Bruno Le Maire voiced opposition to a relaunch of negotiations with Mercosur.
"I don't see why agriculture always has to be the bargaining chip in Europe's trade negotiations... especially when a certain number of South American countries, notably Argentina, are putting new protectionist tariffs on food imports," he said.
The European farmers' group Copa-Cogeca also attacked Mercosur, saying: "EU producers have to comply with stringent requirements, which make it much more costly to produce, whilst Mercosur countries do not have to respect the same standards."
Copa-Cogeca singled out meat production by Mercosur, saying it tolerated growth hormones banned in the EU, poor labour conditions and genetically modified products.
EU farmers' income is now "below pre-2000 levels" in many areas, the statement said, warning that any further pressure would cause "an exodus from the sector".
Related Internet Links
The BBC is not responsible for the content of external sites.