Senior US officials hold security talks in Pakistan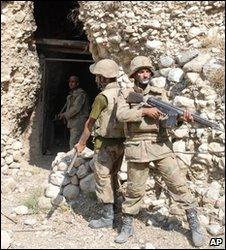 A high-powered US delegation has held talks in Pakistan on key security issues.
Officials have discussed the failed bombing attempt in New York by a Pakistan-born US national.
They are the most senior representatives to travel to Pakistan since the botched attack.
The talks take place as officials say that two soldiers and at least 40 militants have been killed in clashes with security forces in the north-west.
There is no independent confirmation of the casualty figures and no immediate word from the militants.
The US delegation included President Obama's National Security Adviser, Gen James Jones, and the director of the CIA, Leon Panetta.
He briefed senior Pakistani officials on the investigation into the Times Square car bombing attempt and praised the country for its co-operation, a statement from both sides said.
Both Gen Jones and Mr Panetta met with President Asif Zardari on Wednesday afternoon, presidential spokesman Farhatullah Babar said. They also held talks with Pakistan's army chief, Gen Ashfaq Parvez Kayani.
"Jones expressed appreciation for the excellent co-operation the United States is receiving from Pakistan," the statement said.
"The talks covered measures that both countries are, and will be, taking to confront the common threat we face from extremists and prevent such potential attacks from occurring again."
American authorities have linked the failed New York attack to the Pakistani Taliban.
Gen Jones in particular is eager for Islamabad to do more to rein in the Taliban and other insurgents in the tribal areas.
According to BBC's defence and security correspondent, Nick Childs, the New York bombing attempt has sharpened the issues between the two sides, and raised the urgency to act.
Correspondents say one possibility is to find a way to establish a more strict security regime that will prevent overseas Pakistanis from linking up with Taliban and other militants in the country's north-west without being detected.
Other key issues include the sharing of intelligence between the two countries and the impact of drone attacks on civilians in Pakistan's tribal areas.
Meanwhile, military officials say that the latest fighting in the north-west began when the Pakistani Taliban attacked a security post in the Orakzai region early on Wednesday.
The army has deployed more troops in the area after militants moved there following a military campaign in South Waziristan last year.