Author JG Farrell wins 1970 'lost' Booker Prize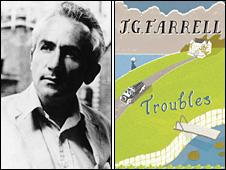 Author JG Farrell has won the Lost Man Booker Prize, a one-off award for books published in 1970, which were not considered for the honour at the time.
The winning novel, Troubles, missed out first time around because rules about publication dates changed - and many works fell through the net.
Judges praised the novel, set in 1919 during the Irish War of Independence, as "a worthy winner".
Farrell also won the 1973 prize for The Siege of Krishnapur. He died in 1979.
Had Troubles actually won in 1970, Farrell would have become the first author to win the Booker twice.
Ion Trewin, Literary Director of the Man Booker Prizes, said: "Troubles is a novel of such lasting quality that it has never been out of print in the 40 years since it was first published."
The book took 38% of public votes, beating the other five shortlisted novels, which included works by Nina Bawden and Dame Muriel Spark.
The shortlist was selected by a judging panel including newsreader Katie Derham, critic and journalist Rachel Cook and writer Tobias Hill.
Hill praised Farrell's "real wit", adding: "He is sharp and intelligent and sometimes laugh out loud funny as well as being thoughtful and interesting."
James Gordon Farrell, who was born in Liverpool and contracted polio as a child, drowned in a fishing accident in Ireland in 1979.
Hill said the writer's death in his early 40s robbed the writer of the recognition he deserved.
"Partly because of that, because he wasn't producing new work, he wasn't appearing as the public profile of literature rose, [and] his work fell out of the public eye.
"It's only the last few years that people have started to notice what a world class writer he is."
Hill told the BBC that judging a "lost" prize had been free of the pressure associated with more contemporary literary prizes.
"The Booker is a prime example in its history of the biases that can rise from people knowing one another," he said.
"Added to that these days is 21st Century spin. Good writing should be good writing but quite often the publishers looms large.
"Who published the book, how is it published, how is it marketed, who says what about it? With this prize, there was none of that."
The winner was announced by Lady Antonia Fraser, who was a judge for the Booker Prize in both 1970 and 1971.
JG Farrell's brother, Richard Farrell, accepted a first edition copy of the book on the author's behalf.
This year's Booker was won by Hilary Mantel for Wolf Hall.
Related Internet Links
The BBC is not responsible for the content of external sites.