India's 3G mobile auction raises $15bn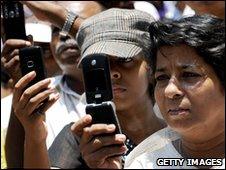 India's auction of third generation (3G) bandwidth for mobile phone services has ended with the government reaping $15bn, twice the sum expected.
Nine telecoms firms, including market leaders Bharti Airtel and Reliance Communications, took part in more than 180 rounds of bidding over 34 days.
No firm won the 3G mobile spectrum in all 22 geographic areas up for grabs.
But Bharti Airtel, Vodafone Essar, and Reliance Communications all won phone spectrum in the Delhi and Mumbai areas.
"It's good news for the government, no doubt," said Arun Kejriwal, strategist at Kris Research in Mumbai.
"For the operators it's a large sum of money that has to be paid out. We have to see how these services are priced and received by the subscribers and how it will impact their profitability."
There are nearly half a billion mobile phone subscribers in India, and it is the world's fastest growing mobile market.
But until now larger private operators have been restricted in their ability to deliver voice and data services.
Now the new 3G networks will give people fast access to the web from their handsets.
3G allows mobile phone users to surf the internet and download music, video and other content at a much faster pace than the current second-generation, or 2G, service.
The total number of mobile phones sold in India has jumped nearly 300% over the past few years, from 35 million in 2005 to 130 million in 2009, according to the Indian Cellular Association.
Related Internet Links
The BBC is not responsible for the content of external sites.