Alicia Duffy: From opera singer to film-maker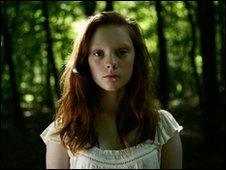 Six years after her short movie The Most Beautiful Man in the World was nominated for Cannes' best short film prize, British film-maker Alicia Duffy has returned to the French Riviera.
This time, she is competing in the Director's Fortnight with her first full-length feature film, All Good Children.
There are high hopes for the 38-year-old, who is the only woman in competition this year to present a non-documentary movie.
In recent years, Cannes has helped boost the profile of other female film-makers, including Andrea Arnold - whose debut feature Red Road and last year's Fish Tank both scooped the Jury prize.
But the absence of female film-makers in the running for the Palme d'Or, in the year that Kathryn Bigelow became the first woman to win the best director Oscar, has been widely noted.
Duffy says she has still not worked out the reasons for the oversight.
"I've been asked this question every day," she says.
"There are more women coming through and it takes time to finish a movie, so they might be done in time for next year.
"Women have been making films for forever, it's just a lot of them just don't get to make the second, third, fourth feature, which is maybe why there's no women in competition this year."
Asked whether she works better with female staff on her films, Duffy replies: "I've had some truly fantastic experiences working with women on set, but I've also had some truly shocking experiences working with women - including on this film."
Kate Kinninmont, from the organisation Women In Film and Television, says statistics show that more women than ever are going to film school, but they are still not getting credit they deserve.
"It's very frustrating because when Kathryn Bigelow won the Oscar this year I was asked to go on Channel 4 News to defend the story that the Academy had voted for her to spite James Cameron," she says.
"Like the Academy waited for 82 years to give a woman an Oscar just because they didn't like her ex-husband.
"People are starting to understand that Bigelow's film could have been made by a man or a woman. We're not just little girls making girly things. We've really got to get rid of the whole gender thing. Alicia is a bloody good director and then she's a female director."
Kinninmont pays tribute to Bond producer Barbara Broccoli, who is supporting a scheme to provide aspiring female film-makers with a mentor.
Duffy was an early beneficiary of the scheme, and spent two years shadowing David Yates, as he directed Harry Potter and the Order of the Phoenix.
"Just watching him direct this monster machine was amazing," she says.
"I could see people wanting to give him things and that way of working is a good thing to see."
Directing was not always Duffy's ambition. Originally, she was a musician and trained as an opera singer. She then went on to study maths at Cambridge before changing to history of art.
"I didn't know I was going to be a director. Then when you say you're going to be a film director, everyone laughs at you," she says.
She finished her first short film, Charmed, just days before the deadline closed for applying to film school.
The film came together almost by accident while Duffy worked as a receptionist.
"I would literally sit in reception and write all day and answer the phone every two hours," says Duffy.
"Then one of the partners asked me what I was doing and I told him I was writing a script. I didn't realise he was a partner at the time. He asked if he could read it and then he rang me about half an hour later asking me how much money I needed to make the film."
She admits that this may have given her a "false view as to how easy it is" to get a film made.
"I just asked him for £25,000 and the guy actually gave me a book of signed cheques."
The director concedes that working on her first feature film was "exhausting" and has made this year's trip to Cannes a very different experience to her earlier trips - with Crow Stone, which won a Cinefondation award in 2001, and The Most Beautiful Man in the World, in 2003.
"The big leap that I'm experiencing now is, once you go into features, you're actually in the business of film. Suddenly I'm meeting distributors and sales agents and it's a whole new world."
All Good Children is the story of a young Irish boy (Jack Gleeson) who moves to rural France after the death of his mother and becomes obsessed with an English girl called Bella (Imogen Jones).
Duffy says she enjoyed the process of putting it together, including endless casting sessions, where she saw "literally thousands of children".
She didn't find a suitable actress to play 12-year-old Bella, however, until she met Imogen Jones at a school "at the bottom of my road".
Jones had never acted before, making it a risk for Duffy to cast her, but insists the newcomer was perfect for the part.
"I gave her about four or five auditions. I even made her do one in her bikini - which sounds kind of dodgy - but I knew she was going to be exposed and I had to tell her she was going to kiss a boy, which she was fine about.
"She was extraordinarily professional throughout and was really quite something," she says.
Duffy also recalls another long search she endured for the film - finding a tame fox.
"This went on for months - trying to find a fox - and we finally found a man who had a pet fox," she says.
"Anyway, the fox ran away [during] the shoot and I don't know if they ever found it.
"I actually cried about that on set."
Despite the problems she encountered on her first feature, it has not put Duffy off. She says she is already planning her next film. This time though, she wants a writing partner.
"I'm sure some people really love the process of writing but I find it quite difficult.
"I'm hoping its going to be more pleasurable with a co-writer."
Related Internet Links
The BBC is not responsible for the content of external sites.