UN official warns on fisheries losses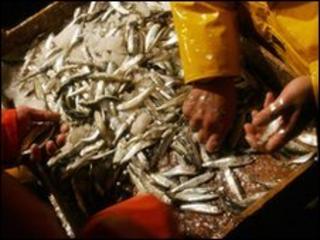 The UN's top environment official has echoed warnings that commercial fishing could be destroyed within 50 years.
"It is not a science fiction scenario. It is within the lifetime of a child born today," said Achim Steiner, head of the UN Environment Programme (Unep).
He made the remarks at a conference in New York previewing a new study on how to make the global economy more environmentally sustainable.
His colleague, Dr Pavan Sukhdev, said if current fishing practices continued, "then we are in a situation where 30 or 40 years down the line we effectively are out of fish".
A similar warning was first aired several years ago by an international team of researchers led by the ecologist Boris Worm, of Dalhousie University in Canada.
However, in more recent studies Dr Worm has noted that efforts to rein back overfishing are having some success, so the 2050 prediction may have to be revised.
As for the UN's figures, Dr Steiner said the report, which is due to be released formally in October, had not yet gone through the final stages of the peer-review process.
However, he said the UN felt "very confident on these elements already".
Heavy reductions
A preview of the report says for fish stocks to be saved, up to 22 million jobs involved with fishing may have to be axed, and up to 13 million boats removed from service.
The UN calculates that 35 million people around the world are directly employed in fishing, and up to 500 million are indirectly employed through related industries.
However, the UN says its projected lay-offs are a worst-case scenario that would only be necessary if untargeted cuts were applied across the world.
Officials hope instead that western countries, whose heavily-subsidised industries are responsible for the bulk of the problem, would make the heaviest reductions.
The authors estimate that annual subsidies to the fishing industry are currently worth $27bn.
They suggest that much of this aid could be redirected into training and education programmes for the fishermen who would be affected by the cuts.
They also suggest billions could be poured into "sustainable" fishing initiatives, such as Marine Protected Areas, where depleted fish species could recover.
Dr Steiner said continuing to subsidise the current "dead-end strategy" would also affect western consumers.
He pointed to the case of bluefin tuna, which experts warn is being driven to the point of extinction through high demand.
Dr Steiner criticised the assumption that the free market would somehow "sort it out".
He said: "The market rewards those who will go out and go even further and get the last fish out the sea."
Instead, the UN hopes the new study will prompt further international regulation.
The report suggests up to $220bn dollars may be needed over 40 years to address the situation.
However, it also estimates that this would help make the global fishing industry more effective and productive.