Hague tribunal receives Mladic wartime diaries
By Nick Thorpe
BBC News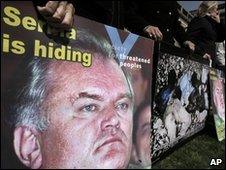 War crimes prosecutors at The Hague say they have now received the wartime diaries of Gen Ratko Mladic.
He is one of only two men indicted at the International Criminal Tribunal for the former Yugoslavia still on the run.
Regional analysts say the diaries, which were seized from Gen Mladic's home in a raid in February, could provide important evidence in several ongoing trials.
The diaries cover the period 1991-96, during the wars in Croatia and Bosnia.
In all there are 18 diaries totalling 3,500 pages.
They were seized in a raid on the Belgrade apartment of Gen Mladic's wife in February.
The Serbian authorities handed them over at the prosecution's request.
Prosecutors say they contain "a significant volume of new evidence" of value in ongoing trials.
Gen Mladic is believed to have kept notes on all his major meetings, including those with Bosnian Serb political leaders like Radovan Karadzic, currently on trial at the Hague tribunal, and former Yugoslav President Slobodan Milosevic, who died in custody four years ago.
Several extracts have already been published in Bosnian and Serb media.
Ratko Mladic's own whereabouts remain a mystery, 15 years after his indictment.
But the chief prosecutor of The Hague tribunal, Serge Brammertz, said during a visit to Serbia last week that "I still do not have any reason to believe that he is not in Serbia".