Germany's Merkel hosts key finance regulation summit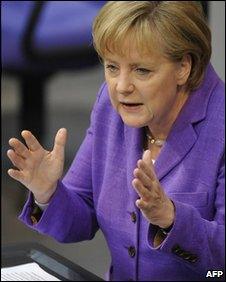 German Chancellor Angela Merkel is hosting an international conference aimed at forging a common position on financial regulation.
Germany, Europe's largest economy, wants tougher regulation of financial markets and strict penalties for EU nations running high debts.
Mrs Merkel has said Europe faces "the biggest test in decades", with the euro in "crisis".
But France's economy minister said the euro was not in danger.
Christine Lagarde told RTL Radio: "The euro is a solid and credible currency. I absolutely do not think that the euro is in danger."
German taxpayers are angry that they are bearing the brunt for rescuing debt-laden Greece.
Germany has been helping to stabilise the European single currency, the euro, which has fallen to a four-year low against the dollar this week, and taxpayers no longer seem prepared to pay for the mistakes of their EU partners.
The high-level meeting comes ahead of the G20 summit in Canada next month.
Germany is calling for a global tax on financial transactions to help cover the cost of the crisis.
On Wednesday, it banned certain financial transactions called naked short-selling.
Meant to ease public anger at home, the move has taken Germany's European partners by surprise and sent the euro plummeting.
Chancellor Merkel told lawmakers that the current crisis was the biggest test faced by Europe in the past 50 years.
She wants tough penalties for EU countries that do not play by the rules, including cuts in European funds and withdrawing voting rights.
Some, like MP Thomas Silberhorn of Mrs Merkel's Christian Democrats, argue that this is the last chance for countries like Greece to reform.
If they do not, he says, they should be declared insolvent and leave the eurozone.
"A member country of the eurozone which cannot be helped any longer would have no other option but to go out, in its own interest. This is the consequence in the worst case," Mr Silberhorn said.
For decades, Germany has acted as Europe's paymaster, to show its commitment to the continent's peaceful integration.
But 65 years after the end of World War II, and 20 years since their country's reunification, many Germans feel they have paid their dues.
Speaking to a group of European reporters, Interior Minister Thomas de Maiziere, a close ally of Chancellor Merkel, compared Europe to a family.
"Anyone who has raised children knows that if you give in to their demands too early, it's often more expensive than doing it later with certain conditions - that's been our experience.
"Our European friends have to come to terms with the fact that Germany is now defending its national interests in the EU, just like France or Britain have always done," he added.