Greece brought to standstill by anti-austerity strike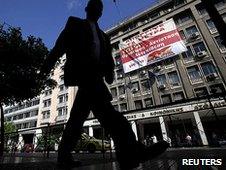 Thousands of Greeks have protested in the centre of the capital, Athens, as part of a general strike against government austerity measures.
Demonstrators converged on the parliament building before dispersing.
The 24-hour strike has seen schools closed and ferry and train services across the country halted.
It was called in response to government moves to cut public sector wages and increase taxes.
The Labour Ministry was occupied by communist protesters and rally organisers had hoped up to 100,000 people would join protests on the street.
There were fears of renewed violence after protests in the city two weeks ago led to the deaths of three people when a bank was fire-bombed.
But the crowds marching through Athens were smaller than those which took part in that general strike, reports the BBC's Malcolm Brabant from the Greek capital.
Lines of riot police stood guard at vulnerable points near the Tomb of the Unknown Soldier to deter protesters from trying to storm the parliament building.
Many Greeks are angered by the spending cuts and tax and pension-age rises planned in return for a 110bn-euro (£95bn) bail-out from the EU and IMF.
The measures aim to achieve billions of euros in budget cuts over three years, with the goal of cutting Greece's public deficit to less than 3% of GDP by 2014. It currently stands at 13.6%.
The strike officially began at midnight on Wednesday local time.
Train services, shipping and domestic flights were severely disrupted.
The strike was also expected to force the closure of government buildings, schools and banks, and to reduce hospitals to emergency staff later in the day.
The country's main civil service and public sector unions say they represent some 2.5 million workers.
"People are bleeding financially but they will participate in the strike," Ilias Vrettakos, a senior member of the ADEDY union, was quoted as saying by Reuters.
However, Greek air traffic controllers are not taking part in the industrial action.
They have decided to continue working because travellers have faced too much disruption recently from the Icelandic volcano and also because of concerns about the impact of the strike on tourism, says our correspondent.
He adds that journalists have also decided to postpone their industrial action, because one of the most essential components of this rolling campaign is publicity.
The strike on 5 May in Athens generated some of the worst violence in decades.
The death of three bank workers, who suffocated when their office was fire-bombed, has forced many people to question the way protests have been mounted, our correspondent says.
He adds that the demonstrations during this latest strike will be a barometer of the mood of the nation.