Slovenia on brink of historic World Cup moment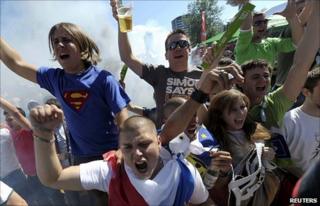 Watching their team's fine World Cup performances at the England Pub, Slovenian fans believe they can get the historic result they need against England on Wednesday.
"It will be tough for England playing us. It is team spirit that really counts and the Slovenian team has the best," says Luka Hobic, a 22-year-old student following the World Cup in the back room of a pub in Ljubljana, Slovenia's capital.
This is only Slovenia's second World Cup, since it gained independence from Yugoslavia in 1991. With just two million inhabitants, it is the smallest nation to have a team in South Africa. But despite all that, the team are on the verge of progressing to the last 16 in the competition.
Slovenia lead a group containing England, the USA and Algeria. A draw against England is all they need to go through. Even defeat would be enough if Algeria and the USA draw.
Will team spirit really be enough? On paper, England must be favourites to beat Slovenia, with the US fancied to outplay Algeria. Such an outcome would end Slovenia's World Cup.
But optimism seems reasonable for a team which has already defied formidable odds, winning a shock victory over Russia in November to qualify. Since arriving in South Africa they have beaten Algeria - a feat England failed to match - and held the US to a contentious draw.
"Slovenia can win this thing," says Mr Hobic.
With the number of shock results already registered at this World Cup, who would dare disagree?
Measure of success
But others see victory for Slovenia in more modest achievements.
"The Slovenian people as a nation have done everything right, and lost everything in recent years. Nil-nil would be a great result against England," says 42-year-old Andrej Lisjak in the beer garden.
Nor is Slovenia's manager, Matjaz Kek, pre-occupied with securing international glory - hoping instead that some measure of success might help ease the severe financial difficulty being faced by domestic football clubs.
His sincere hope is instead that "football in Slovenia will be strengthened".
There are only 10 teams in the country's Premier League and only around 400 professional players. Football competes for popularity with handball, basketball, skiing and ice hockey, with prowess in winter sports helping the Alpine nation differentiate itself from other former-Yugoslav nations to the south.
"The best outcome would be if England and Slovenia went forward," Mr Hobic says. As one of the 71 members of the unofficial Manchester United Red Army of Slovenia (URAS), he supports England too.
And what about Serbia, the only other former-Yugoslav nation at the finals?
"Serbia's success against Germany [they beat them 1-0] was important for us. We were part of the same country until only a few years ago," says Martin Steblovni, the 36-year-old co-ordinator of URAS.
There is little distress, however, among Slovenian fans at the absence of Croatia, with whom Slovenia has bitterly quarrelled over border issues.
Others pledge themselves wholeheartedly to the England cause.
"Deep in my heart I am English. When we play against Slovenia, I am on the English side. We are going to win the World Cup," says Tomaz Rojina, landlord of the pub.
"When we play in the final I will watch it in Trafalgar Square."
Terrace anthem
When he went to England to watch the England-Slovenia friendly at Wembley he sat at the England end, despite being advised not to by a ticket clerk concerned for his safety.
"People look at me during the game, wearing my Wayne Rooney England shirt, and don't know who I am," he says.
The decor of Mr Rojina's bar - the England Pub - reflects his ardent anglophilia. The walls are crammed with framed pictures of guardsmen in busbies, prints of Spitfires and Lancaster bombers, Winston Churchill, union jacks, Sherlock Holmes, Stonehenge and an area dedicated to the Queen.
"I don't mind, but some people don't like it," says Mr Hobic.
The pub's clientele break into song, chanting the words "You'll never walk again" to the tune of the famous Liverpool football hymn You'll Never Walk Alone, to gales of laughter.
It could well be a boisterous afternoon in a pub somewhere in England - though the local Lasko and Union beer remain far more popular than the pub's imported bitter, and the terrace anthem makes way to an Alpine toast sung in three-part harmony.
The landlord is torn between his imagined and his real - an idealised England, and a Slovenia steeped in past glories.
"If England had no barriers to entering and I was a bit younger, I would move there. It's hard to live a normal life here," laments Mr Rojina.
"But it is too late now, I have a wife and children. Slovenia is like a small village. But our empire is so big the sun never sets."