Malawi gay couple get maximum sentence of 14 years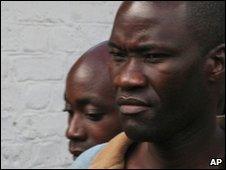 A judge in Malawi has imposed a maximum sentence of 14 years in prison with hard labour on a gay couple convicted of gross indecency and unnatural acts.
The judge said he wanted to protect the public from "people like you".
Steven Monjeza, 26, and Tiwonge Chimbalanga, 20, have been in jail since they were arrested in December after holding an engagement ceremony.
The case has sparked international condemnation and a debate about homosexuality in the country.
The British government, Malawi's largest donor, expressed its "dismay" at the sentences, but has not withdrawn aid.
The US state department, meanwhile, said the case was "a step backwards in the protection of human rights in Malawi".
Handing down sentence in the commercial capital, Blantyre, Judge Nyakwawa Usiwa-Usiwa told the pair: "I will give you a scaring sentence so that the public be protected from people like you, so that we are not tempted to emulate this horrendous example."
The judge said the pair - whom he convicted on Tuesday - had shown no remorse.
"We are sitting here to represent the Malawi society, which I do not believe is ready at this point in time to see its sons getting married to other sons or conducting engagement ceremonies," said the judge.
The BBC's Raphael Tenthani in Blantyre says Monjeza, who is unemployed, broke down in tears while Chimbalanga remained calm.
"I am not worried," Chimbalanga, a hotel janitor, told reporters as he was led away.
Defence lawyer Mauya Msuku told the BBC that they would appeal.
The courtroom was packed, and hundreds of people gathered outside the building. Some shouted abuse as the couple were taken back to jail.
There were shouts of "You got what you deserve!" and "Fourteen years is not enough, they should get 50!"
Mr Msuku had argued for a lighter sentence, pointing out that the pair's actions had not victimised anyone.
"Here are two consenting adults doing their thing in private. Nobody will be threatened or offended if they are released into society," he said on Tuesday.
'Prisoners of conscience'
Gift Trapence, from the Centre for Development of People (Cedep), a human rights group, described it as a sad day for Malawi.
"How can they get 14 years simply for loving one another?" he asked. "Even if they are jailed for 20 years you can't change their sexuality.
Michelle Kagari, deputy Africa director of Amnesty International, called the sentence "an outrage", reports the AP news agency.
She described the pair as "prisoners of conscience" and said Amnesty would continue to campaign for them to be freed.
UK gay rights campaigner Peter Tatchell pointed out that the laws under which the pair were convicted were introduced during British colonial rule.
"These laws are a foreign imposition. They are not African," he said.
He described the sentence as "brutal" and more severe than for rapists, armed robbers and killers.
The men had denied the charges and their lawyers said their constitutional rights had been violated.
Cedep and the Centre for Human Rights and Rehabilitation (CHRR) have been urging Malawi's authorities to relax the country's stance on homosexuals.
Our reporter says the government has come under pressure from Western donors over the issue.
Related Internet Links
The BBC is not responsible for the content of external sites.