Afghan Pamir Airways plane wreckage spotted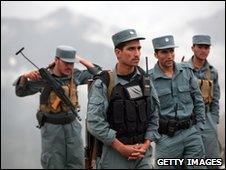 Afghan and Nato search teams have located the wreckage of a passenger plane which crashed between Kunduz and Kabul on Monday, officials say.
A Nato statement said the Pamir Airways crash site was found in the mountainous Shakardara district, north of the Afghan capital, Kabul.
The search had been hampered by poor weather and difficult terrain.
But a recovery operation is being planned by Afghan and Nato authorities.
The flight had more than 40 people on board, including six foreigners. It is still not clear what caused the crash.
The tail section of the plane had earlier been spotted during an aerial search and the plane was identified from the photographs taken, Ahmanullah Hameed the head of Pamir Airways told the BBC.
Officials were able to identify the plane's logo on the tail section.
On Wednesday, reports that a Nato helicopter had spotted the plane wreckage proved to be unfounded. An Isaf spokesman at the time said the search could go on for some time.
Dozens of Afghan police and locals have been scouring the rugged terrain of the Hindu Kush mountain range where the plane is believed to have crashed, particularly the Salang Pass area.
The Salang Pass is a major route through the Hindu Kush mountains connecting Kabul to the north of the country.
Pamir Airways is one of Afghanistan's private carriers and operates mainly domestic routes across the country.
In 2005 an Afghan airliner crashed in the Band-e-Ghazi area east of Kabul. More than 100 people were killed.