Extra university places pledged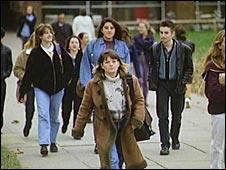 The coalition government has pledged to create more university places in England but stopped short of saying whether tuition fees would rise.
It would instead await the findings of Lord Browne's independent review of student funding.
These would be judged against the impact of student debt and the need to widen university access.
The Liberal Democrats, who wanted to scrap fees, would be allowed to abstain in a vote on the issue.
The government has not yet said how many extra places it will fund, but during the election campaign the Tories said they would boost university numbers by 10,000.
The former Labour government had promised an extra 20,000 for the academic year 2010, but these are only funded directly in the first year.
University think-tank million+ asked for clarity on whether these places were being funded by the new administration.
The coalition' s "Programme for Government" document says it will review Lord Browne' s review of higher education before making a decision on the future of university funding.
But it pledges to "judge its proposals against the need to - increase social mobility; - take into account the impact on student debt; - ensure a properly funded university sector; - improve the quality of teaching; - advance scholarship; and - attract a higher proportion of students from disadvantaged backgrounds."
It adds: "If the response of the government to Lord Browne's review is one that the Liberal Democrats cannot accept; then arrangements will be made to enable Liberal Democrat MPs to abstain in any vote".
This is an area of clear difference between the parties.
The Lib Dems campaigned on a ticket of phasing out tuition fees over six years, while the Tories said they would await the official review of fees.
The coalition also pledges a review of support for part-time students, who now make up a large chunk of undergraduates.
And it pledges to ensure that public funding mechanisms for university research safeguard its academic integrity.
On further education, the coalition document says it will set colleges free from "direct state control", and abolish the "many further education quangos".
"Public funding should be fair and follow the choices of students," it adds.
It also pledges to seek ways to support the creation of apprenticeships, internships, work pairings and college and workplace training places.
In his first speech as the new universities minister David Willetts said the country could not afford to waste its "human potential".
Figures just out showed there were 837,000 18 to 24-year-olds not in employment, education or training, he said, and this was "bad" for the economy and blighted the lives of individuals.
"That is why we must provide a wide range of routes into further and higher education, including through high-quality apprenticeships," he added.
Related Internet Links
The BBC is not responsible for the content of external sites.