Royal Mail part-privatisation planned by coalition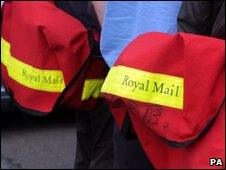 The UK's coalition government has confirmed that it will seek a partial privatisation of Royal Mail.
In its latest coalition agreement document, the government said it would seek "an injection of private capital" in Royal Mail.
However, it did not say how much of the struggling mail group would be up for sale.
The previous Labour government shelved its controversial plans to part-privatise Royal Mail last year.
There will be "opportunities for employee ownership", the Conservative-Lib Dem agreement said, while the post office network will remain in public ownership.
Post offices will be allowed to offer a wider range of services, and ideas including a Post Office bank - which the previous government was considering - will be explored to provide new sources of revenue.
The announcement came as Royal Mail reported a pre-tax loss of £262m for the last financial year.
The operating profit was £404m, however, up 26% on the previous year.
The group admitted that the deficit in its pension scheme was expected to be "significantly higher" than the current £3.4bn valuation by the pension fund trustees.
Although the pension trustees have still to make their own new valuation, Royal Mail estimates the pension deficit to now be in excess of £8bn.
The group has paid £867m into the fund so far this year in an attempt to close the gap.
"These are good results achieved against a backdrop of harsh economic conditions and the relentless reduction in the number of letters sent by customers," commented Royal Mail's chairman Donald Brydon.
"Huge challenges remain, including the need to find a resolution to our historic pension deficit."
That sentiment was echoed by the Business Secretary Vince Cable.
"Royal Mail is showing signs of financial recovery, but it still faces huge challenges," he said.
"We want to safeguard the future of the Royal Mail so that its employees have a secure future and consumers and businesses continue to have a service they can depend on."
In 2009, the then Business Secretary Lord Mandelson was forced to shelve plans for a partial sell-off of Royal Mail amid widespread opposition from Labour MPs.
Lord Mandelson also blamed the poor economic situation, which he said would prevent the government getting a good price from private investors.
Related Internet Links
The BBC is not responsible for the content of external sites.