Author in Heroes copyright claim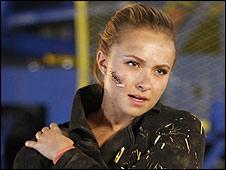 The creator of a graphic novel is suing NBC Universal for $50m (£40m) claiming the final series of Heroes ripped off his storyline.
Jazan Wild, real name Jason Barnes, says NBC used a carnival "virtually identical" to the ones depicted in his digital book series Carnival of Souls.
By doing so the network "knowingly, wilfully, recklessly and maliciously infringed" on his copyright, he claims.
Hollywood Reporter says Wild filed the complaint in Los Angeles.
Court documents list alleged similarities including a travelling carnival that can magically appear and disappear, a hero amassing followers with special powers and a circle of mirrors tied to the key plot.
"Indeed, some of the scenes in Heroes appear as if the books were used as storyboards by the defendants," the complaint states.
Wild also claims that the ending of season four was changed in an attempt to minimise obvious similarities.
As well as substantial damages, he is seeking an injunction against further distribution of season four of Heroes.
An NBC spokesperson said: "We believe this lawsuit is meritless and expect to prevail in the litigation."
Earlier this week NBC announced it was ditching Heroes after four series.
It has suffered a slide in ratings during its second and third series, with fans claiming a lack of direction.
Creator Tim Kring said it would return to its roots during its fourth season in a bid to win back viewers.
Related Internet Links
The BBC is not responsible for the content of external sites.