Opera star Shimell swaps the stage for the big screen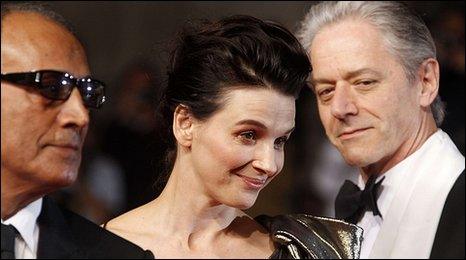 He's used to standing on stage at La Scala or the Royal Opera House - but this week at the Cannes Film Festival 57-year-old William Shimell found himself getting applauded by some of the toughest film critics in the world.
The British bass baritone made his movie debut in Iranian director Abbas Kiarostami's film Copie Conforme opposite Juliette Binoche having never taken an acting class in his life.
The pair met when Kiarostami directed him in an production of the opera Cosi Van Tutte at a music festival in Aix En Provence a couple of years ago.
"I was really dubious when I heard that a movie director was going to have a say in an opera production," recalls Shimell, "but what did I know?"
In the meantime, Kiarostami was becoming convinced that the singer would be right to take on the part of James Miller in the movie he was writing.
"It was the nuances in his face that I saw on stage," the director explains. "He just had so many expressions when he never said a word. I believed he would be a natural actor."
Shimell though was slightly underwhelmed when offered the part.
"I didn't go and grab it with both hands - yes! I'll be in a movie!
"I said yes, a little out of curiosity I suppose, but deep down I was convinced he wouldn't be allowed to cast me by producers, then I was sure Juliette would say no to working with someone unknown, and then even when I turned up for the first day of shooting I was sure they would fire me and send me home.
"In the end I thought I had nothing to lose apart from my dignity, and I haven't got much of that left either after so many years in this business."
Kiarostami resisted all calls to change the lead role - there had been talk that Robert De Niro might take it up - and Shimell has been collecting praise from critics for his part.
"William did panic a lot at first," says Binoche. "He did worry he was not a natural actor, but he is. He does not look like a man who is just repeating lines, he is using his whole face - and there are many, many scenes in this movie where nothing is said and expression is everything."
Shot over the course of five weeks in Italy, the film is in the English, French and Italian languages. Shimell and Binoche's characters are art lovers who meet up for a day. When he is taken for her husband, she does not correct the assumption.
Shimell says he enjoyed the experience but is describing it for now as a "one off" as he hasn't had any other offers so far - although that might change after the festival.
"I would love to do it again," he confesses, "for now though I'm rehearsing with the Royal Opera House in London this week for a production of Manon and they kindly gave me a couple of days off to come here."
He's got plenty to say about the twists and turns that life offers - and the chances that can come late in life.
"The two things that changed my fate have come out of the blue to me. The first one was 20 years ago when I was suddenly offered the opportunity to perform at La Scala opera house in Milan, and now this one.
"I'm really grateful and can't believe that I'm having this experience."
Related Internet Links
The BBC is not responsible for the content of external sites.