'Order restored' in Bangkok after protests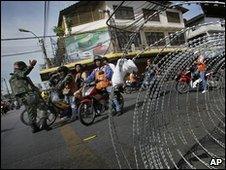 Thailand's government says it has mostly restored order in the capital, Bangkok, a day after violence which left at least 15 people dead.
The unrest came as the military moved in to end weeks of protests by anti-government "red-shirt" protesters.
Protesters fought troops and torched buildings after several key red-shirt leaders surrendered to police.
Speaking from custody, one leader, Veera Musikapong, has urged all sides to co-operate in peaceful talks.
"I'd like to ask all sides to calm down and talk with each other in a peaceful manner," he said.
"We cannot create democracy with anger. Good things are built on non-violence."
Mr Veera was among three protest leaders to surrender on Thursday, taking the number of leaders in custody to eight. They are being questioned at a military base south of the capital.
A night time curfew put in place on Wednesday in the city and 23 other provinces has been extended for three more nights, in a bid to prevent a resurgence of unrest.
Soldiers are positioned at checkpoints on the streets leading to the centre of Bangkok, where thousands of red-shirts had been camping out since 14 March.
Security officials said they had found caches of weapons as they searched the area.
"The military and police found many devices, and after an investigation, we found that this area could have been used to make devices used during the riots," said Porntip Rojanasunan, a member of the government's emergency taskforce.
"The equipment we found included bomb parts and every type of grenade," he told reporters.
Thousands of red-shirts have now left Bangkok, having been given free transport to their homes, many of which are in the more rural north.
But the authorities have warned that a hard core remains at large in the capital and unrest could yet spread.
On Thursday, police and troops cleared some 1,000 protesters from a temple in the protest zone where they had been taking shelter for several days.
Those inside were mostly women, children and elderly people who evacuated the main camp before the troops arrived - many were crying as they were led out of the temple by police, while some were defiant.
"We are the winners now, for all over the world, we are the winner," said Salisa Khottha, a protester. "We never lose. We can stand up again some day."
Six bodies were found in the temple compound, bringing the number killed in the previous day to 15 - the army said it was not responsible for the deaths.
Some 50 people have died since troops surrounded the protesters last week.
A curfew is still in place. Army spokesman Dittaporn Sasasmith said it would run from 2100 local time (1400 GMT) on Thursday until 0500 the following day (2200 GMT Thursday) and repeat for the next two nights.
"This will help security forces provide security for the public and prevent further violence," he said.
Reuters news agency quoted a spokesman for Bangkok's governor as saying there were still 31 fires burning in the capital on Thursday morning.
Banks, department stores and hotels were targeted by protesters as they retreated.
The stock exchange suffered a small fire and will be closed until the weekend. Banks in other parts of the country will also stay shut.
Buses were running in the capital on Thursday morning and TV channels continued to show only approved programmes.
The BBC's Chris Hogg in Bangkok said the situation around the protest site remained far from normal, with many local people unable to pass through military checkpoints.
While some Thais say the government had to act to regain control of the capital, the high price paid will further polarise the country and the authorities will now have to ensure the process of reconciliation begins in earnest, says our correspondent.