Rat poison ban 'may harm farming'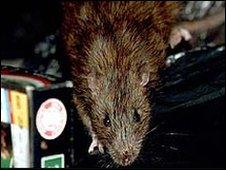 A Scottish MEP has warned EU proposals for a ban on the most widely used rat poisons would be "catastrophic" for the agricultural industry.
The European Parliament's environment committee will next month vote on a ban on anti-coagulant in rodenticides.
Scottish Conservative MEP Struan Stevenson said if the bill was made law there would be no other way of controlling the rodent population.
He said there would be an explosion in numbers.
Mr Stevenson said the bill, which is at the first reading stage could be in place by the summer, if it is passed.
He told the BBC Scotland news website: " I am trying my hardest to get a majority to vote against the amendment, but this is very serious."
"Pest controllers are extremely alarmed by this as there would be an explosion in the rat and mice population. There is no other way of controlling them.
"The damage they cause is immense."
Grain store manager, Jim Brown said: "This is potentially catastrophic.
"Rats need food, they need water and they need cover. They have got all the essentials here - it is a utopia for rats and we have seen rats on the site before and they are very difficult to eradicate.
"It is not so much what they eat, it is what they spoil.
"They spoil the grain through their urine and their droppings and it is unhealthy for folk to work in that.
"We have cracked the rat problem with rodenticides and now in one fell swoop the whole thing is going to be put back years."
Pest control expert, Mark Sheriffs, said: "Rodenticides are anti-coagulants, they work by making the blood haemorrhage - it is one of the only methods we have left to us to control mice and rats on rural farms."
The environment committee is due to vote on the ban early next month, before the full parliament votes in July.
Related Internet Links
The BBC is not responsible for the content of external sites.