Nyiragongo volcano landslide: 54 'dead' in DR Congo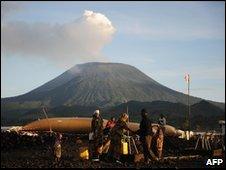 Families left homeless by a landslide on the slopes of a volcano which left 54 people missing in the Democratic Republic of Congo will be relocated, the UN says.
A UN spokesperson told the BBC that some 250 homes had been destroyed.
An overflowing river caused a landslide at the weekend on the slopes of Nyiragongo volcano, near the eastern town of Goma.
The UN Mission in DR Congo (Monuc) is searching for missing people.
It is also providing emergency relief, said Monuc spokesperson Madnodje Mounoubai.
Government officials have been telling people that they would be relocated away from the area in case new rains bring further landslides, he told the BBC.
Monuc has so far recovered 26 dead bodies, with 28 people still missing.
Eastern DR Congo - including the North Kivu province around Goma - is still plagued by army and militia violence despite the end of the country's five-year war in 2003.
But the poor security situation in the region is not disrupting Monuc's efforts to respond effectively to the disaster, Mr Mounoubai said.
The DR Congo press estimates that around 5,000 people have been affected by the landslide.
"This is the number we should go on," says Mr Mounoubai.
Related Internet Links
The BBC is not responsible for the content of external sites.