Scores of exams disrupted by winter snow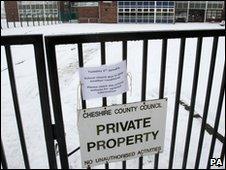 Heavy snow disrupted scores of examinations this winter, according to a report by the exams watchdog.
A total of 190 exams were affected by the closure of 14 centres across England, Wales and Northern Ireland, Ofqual says.
It says the figure was a small proportion of the 1,300 examinations taken during the winter.
The report adds that the vast majority of schools that closed because of the weather were open for exam candidates.
It says: "For most centres only one day of examinations was affected and in most cases fewer than 10 candidates were affected.
"These closures affected around 190 examinations in total."
The decision to remain open or not in January's bad weather rested with the head of each centre.
Where a centre was unable to open on one or more days, it was advised to use another venue.
Overall the report says the proportion of absences in January this year was very similar to the January of the previous year.
It adds: "Whilst it is known that some candidates were unable to attend their examinations it is apparent that, despite concerns, the efforts of candidates and centre staff ensured that the heavy snowfall affected a very small proportion of the total exams that candidates were due to take during this period".
Related Internet Links
The BBC is not responsible for the content of external sites.