Turkish jets bomb Kurdish rebels in northern Iraq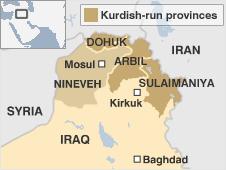 Turkish fighter jets have bombed dozens of Kurdish rebel targets in neighbouring Iraq, reports say.
Some 20 planes bombed dozens of targets in the Kurdish northern autonomous region, Turkish television station NTV reported.
The Turkish government has attacked the rebel Kurdish Workers Party (PKK) in northern Iraq before.
But in the past year the Turkish government had tried to find a peaceful settlement with the group.