Canada 'marijuana seed dealer' extradited to US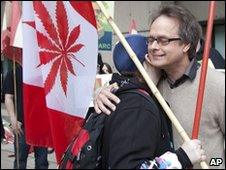 Canada's so-called "Prince of Pot" has been brought to the US where he is expected to plead guilty to selling marijuana seeds to US customers.
Marc Emery allegedly sold millions of marijuana seeds around the world by post.
He was ordered extradited by Canada's Minister of Justice Rob Nicholson on 10 May.
Mr Emery arrived in Seattle, Washington state, on Thursday and is expected to plead guilty on Monday.
Richard Troberman, Mr Emery's attorney, told the Associated Press news agency that his client would plead guilty to one count of conspiracy to manufacture marijuana in exchange for an agreed sentence of five years in prison.
Mr Emery, a resident of Vancouver, British Columbia, said he had made $3m (£2.4m) a year before his arrest in 2005.
His seeds were allegedly traced to illegal cannabis-growing operations in Indiana, Florida, Tennessee, Montana, Virginia, Michigan, New Jersey and North Dakota, according to the US Drug Enforcement Administration.
Supporters of Mr Emery claim that Canada's Conservative government, led by Prime Minister Stephen Harper, is instigating a "culture war" by not intervening in his extradition.
Mr Emery's wife, Jodie Emery, called on other marijuana activists to shut down Hastings Street, a busy corridor in Vancouver, in protest at his extradition.
"My husband committed a crime punishable by only a $200 fine in Canada, yet this Conservative government is sending him to serve up to 25 years in US jail," Mrs Emery said in a press release on Thursday morning.
She added: "I promise you, Stephen Harper, we will hound you until you are nothing but an unpleasant memory."