Dennis Blair resigns as US intelligence chief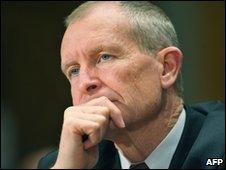 US President Barack Obama's national intelligence director has resigned after a 16-month tenure marked by a series of security failures.
Adm Dennis Blair said he had informed the president of his resignation, which goes into effect on Friday.
His term of office saw the Fort Hood shooting, the Christmas Day bomb plot and the Times Square car bomb plot.
President Obama said on Thursday he was grateful for Adm Blair's leadership and his "remarkable record of service".
"During his time as DNI, our intelligence community has performed admirably and effectively at a time of great challenges to our security, and I have valued his sense of purpose and patriotism," Mr Obama said in a statement.
Adm Blair had drawn fire for the Christmas Day plot when he said the special interrogation teams that had been promised were not yet formed.
This was despite a decision to form the teams months earlier.
The final straw may have been the report from the Senate Intelligence Committee, which came out this week, citing "systemic failures" across US intelligence.
"It is with deep regret that I informed the president today that I will step down as director of national intelligence effective Friday," a statement issued by his office said.
"Several strong candidates" were already being interviewed to replace him, officials told the BBC.
Adm Blair is a retired US Navy admiral who took over as the third director of national intelligence in January 2009.
The position was created after the 11 September 2001 attacks to try to unify and strengthen America's many intelligence agencies, and to force them to share information.
But Adm Blair's resignation suggests those intelligence reforms have yet to fully succeed, says the BBC's Adam Brookes in Washington.
Some Republicans defended Adm Blair's record in office.
"It must have been challenging to be forced on the sidelines... but sill catch all the blame for failings," Senator Kit Bond was quoted as saying by Agence France-Presse.
There is no word yet as to who might replace Mr Blair, our correspondent says.
Related Internet Links
The BBC is not responsible for the content of external sites.