Tyrone man Gary McGurk killed New Yorker ex-girlfriend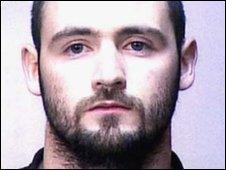 A man from County Tyrone has pleaded guilty to the manslaughter of his former girlfriend in New York.
Gary McGurk, 24, faces between 29 and 37 years in prison after admitting killing Michelle Lee, a forensic investigator for the New York Police Department.
Ms Lee was discovered bound and stabbed to death in her apartment in April 2009.
They first met while studying forensics at college in New York.
Queens District Attorney Richard A Brown said it was "a brutal and senseless crime that abruptly cut short the life of a talented young woman with a bright and promising future.
"His guilty plea not only ensures that he will serve a lengthy prison sentence for his actions, but it also spares the victim's family the emotional trauma of having to listen to testimony at trial about the gruesome circumstances surrounding Ms Lee's death."
Mr Brown said Ms Lee would have been proud of her colleagues in the crime laboratory who worked to apprehend her killer.
McGurk, of 48-56 58th Place in Woodside, Queens, pleaded guilty at Queens Supreme Court to first-degree manslaughter and three counts of tampering with physical evidence.
He admitted hitting her in the head and stabbing her in the neck with a knife.
He also admitted tampering with the crime scene by altering the condition and position of her body, tampering with her blood and sending a message to his own phone from her Blackberry before taking it with him as he left the apartment.
Ms Lee's body was found in her third-floor apartment by her roommate.
Related Internet Links
The BBC is not responsible for the content of external sites.